Welcome to the thrilling world of shark cage diving in Cape Town. Get ready for an adventure like no other as you come face to fin with these majestic creatures. 
Imagine yourself submerged in a sturdy cage, surrounded by the raging beauty of the ocean's top predator. With Gansbaai, Simons Town, False Bay, and Cape Point as major diving points along the Western Cape, prepare yourself for an incredible time.
Get your wetsuit on, hold your breath, and let's dive into the incredible world of Shark cage diving in Cape Town. It's an experience you'll always remember.
Also read: The Ultimate 50 Best Things To Do In Cape Town in 2023
1. African Shark Eco-Charters Shark Cage Diving Cape Town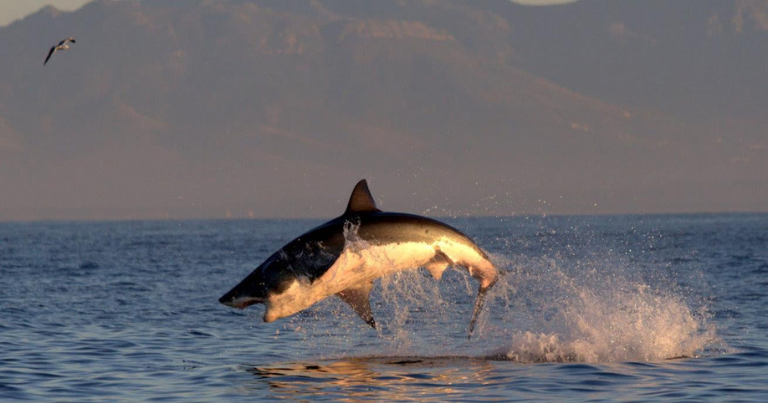 Experience the thrill of Shark Cage Diving in Simon's Town, Cape Town. Choose from the morning or afternoon sessions, both offering a unique scuba-equipped cage diving adventure, uncommon on other shark diving tours. 
Home to Great White, Blue, Mako, Broadnose Sevengilled Cow, and Bronze Whaler sharks, the False Bay coast provides an ideal setting for seeing these magnificent creatures from the safety of the Blue Pointer boat and shark cage. 
Depending on the conditions, dives will occur at Seal Island or Cape Point. Safety is paramount; no compromises will be made to ensure conditions are unfit for diving. As licensed operators, the experienced crew provides an unforgettable encounter with these sharks.
Opening times: Monday – Sunday, 7:00 am – 5:00 pm 
Address: 4 Wharf St, Simon's Town, Cape Town
Contact: 082 674 9454
2. Shark Cage Diving Tour from Cape Town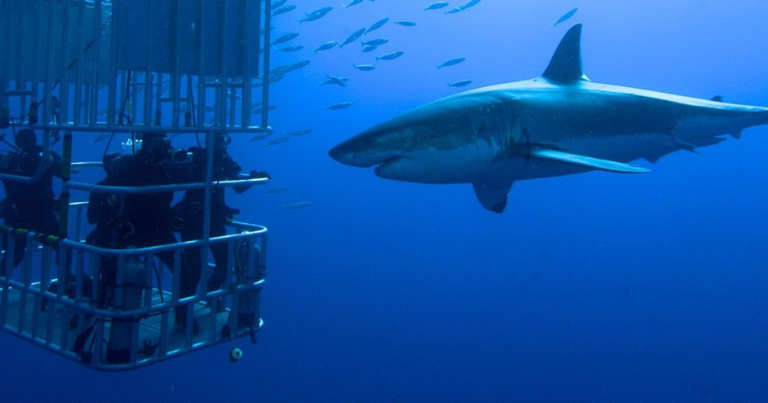 Join a thrilling Shark Cage Diving Tour from Cape Town. Experience the adrenaline rush of getting close to sharks in a secure cage or watch from the boat decks. 
Divers will go to the renowned Shark Alley from the departure point in Gansbaai Harbour. 
You'll have the choice of an underwater adventure or stay dry on deck. Afterwards, a delectable lunch will be served while showcasing your daring escapade on a DVD. This full-day experience includes breakfast, lunch, and round-trip transportation from your hotel or starting point. Take the plunge into a truly once-in-a-lifetime encounter with these majestic creatures or relish the spectacle from above.
Opening times: Monday – Friday, 7:00 am – 10:00 pm; Saturday, 9:00 am – 9:00 pm; Sunday, 9:00 am – 4:00 pm
Address: 7 Chiphillside Road, Retreat, Cape Town
Contact: 067 343 1558
3. Shark Explorers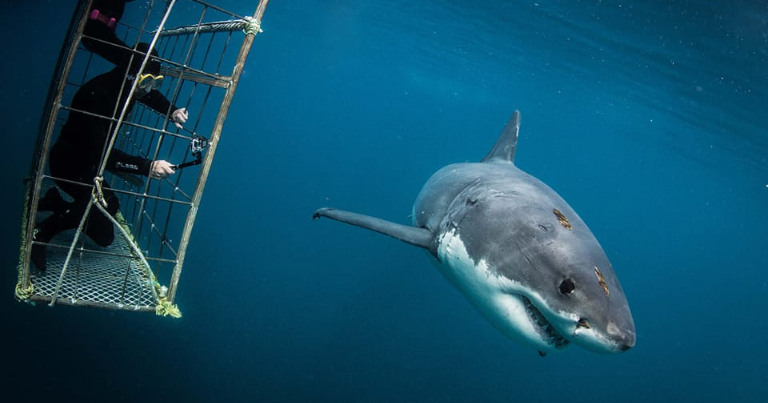 Shark Explorers in Cape Town offers enriching coastal dives in the enchanting Cape Coast kelp forests, where you can spot up to 6 unique shark species exclusive to South Africa. Among these shark species are the spotted gully sharks, puffadder shy sharks, dark shy sharks, pyjama catsharks, leopard catsharks, and seven-gill cow sharks. 
Witnessing the shark pup inside their egg cases is something exceptional. 
The second dive introduces you to the Cape Fur Seals. You'll be able to interact with 40 playful seals as they showcase their undersea agility. 
It's vital to ensure that divers bring essentials like a warm jacket, sunblock, towel, and camera (underwater camera) along with your dive ticket for an unforgettable adventure.
Opening times: All hours, Daily
Address: 62 St Georges Street, Simons Town, Cape Town
Contact: 082 564 1904
4. Shark Divers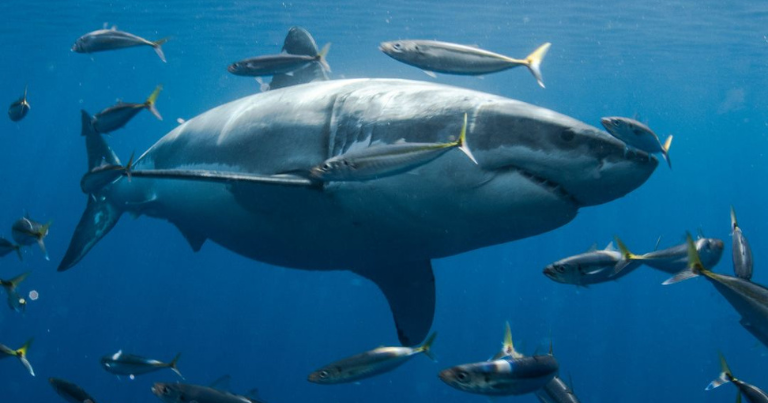 Shark Divers in Cape Town offers enthralling shark diving trips starting in the early morning at Kleinbaai Harbour. 
Once you arrive at Shark Divers, you'll enjoy a light breakfast and sign indemnity forms. Then divers will get a briefing from our qualified crew on what to expect and the safety precautions that must be followed.    
The 20-minute boat ride to the diving point provides stunning views. If you are seasick, tablets are on deck. Once anchored, the crew starts baiting for sharks. Soon after, you will receive diving gear before taking turns in the cage. Boat-based viewing options are also available if you prefer to avoid going in. 
Even children aged 10 and older can join in the cage diving fun. Afterwards, enjoy a light lunch and showers on land, and watch the onboard video. You can buy the trip video, use your camera, or rent a GoPro.
Opening times: All hours, Daily
Address: Kleinbaai Habour, Gansbaai
Contact: 082 442 3059
5. Shark Zone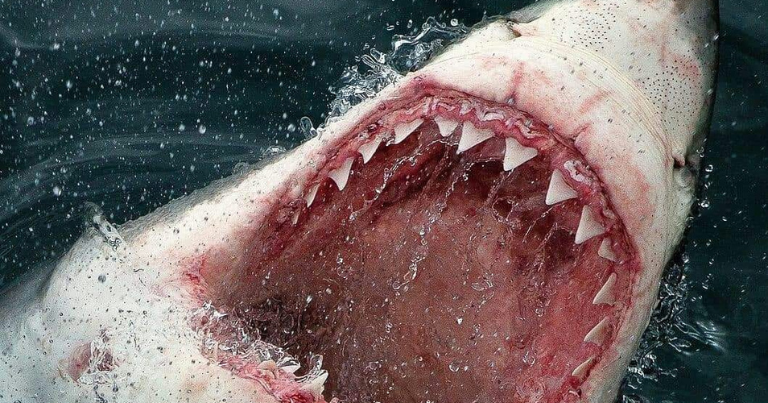 Shark Zone in Cape Town offers thrilling Great White Shark Cage Diving tours. Experience the ultimate adventure face-to-face with these magnificent predators. 
Explore Gansbaai, known for Shark Alley, where Dyer Island's seals attract the ocean predator, making it the world's Great Whites capital. In False Bay, near Seal Island, witness Great Whites' brutal and majestic process of hunting for their prey. 
Shark Zone ensures an enthralling outing, with opportunities to observe these incredible creatures roaming in their natural habitat. 
Plan your trip from mid-May to mid-September for peak shark cage diving near Seal Island—book with Shark Zone to create unforgettable memories of South Africa's stunning marine life.
Opening times: Monday – Sunday, 9:00 am – 5:00 pm
Address: 81 Long Street, Cape Town
Contact: 082 894 4979
6. Gansbaai Shark Cage Diving (Hotspots2C)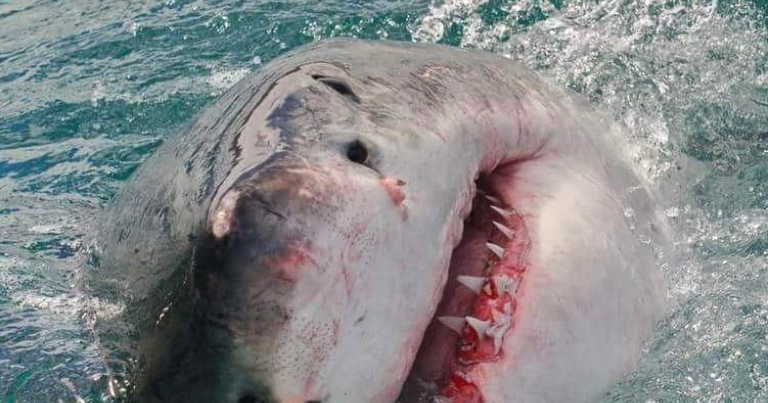 Marine Dynamics, based in Gansbaai, 2 hours away from Cape Town, will surely give divers an experience like no other. 
This marine organisation focuses on shark conservation and provides a purpose-built sturdy cage for a safe and exciting experience. 
A knowledgeable Marine Biologist accompanies the trip, answering all your questions. Unlike fictional portrayals of sharks, this encounter is educational about endangered species. 
As you dive, watch for the majestic sharks with specific alerts given during the cage dive. While there might be some exciting moments, the main goal is conservation. Don't forget to take motion sickness pills before the four-hour trip and wear your swimwear, as you'll change into wetsuits on the boat. Bring extra clothes along for after the dive. Plus, enjoy hot showers back on land for a small fee. For tourists coming from Cape Town, a transport fee may apply unless the activity is included in your tour package.
Opening times: Monday – Friday, 08:00 am – 5:00 pm; Saturday – Sunday, Closed
Address: 13 Gardner Williams Avenue, Somerset West
Contact: 079 983 0812
7. Shark Cage Diving Viewing Only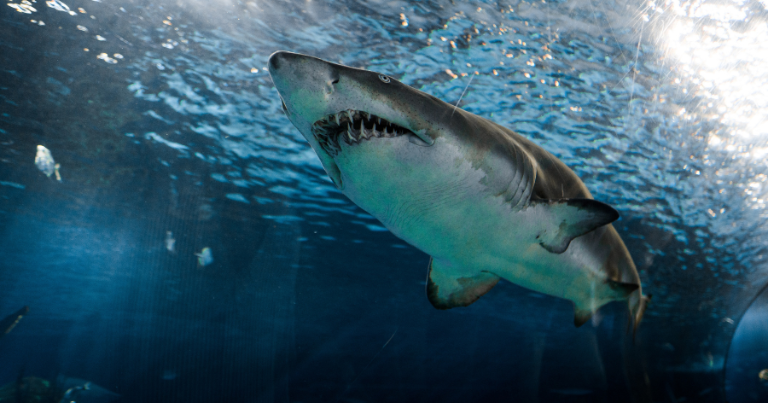 If you want to experience sharks living without the fuss of getting into the ocean, this outing might be up your alley.
Join the small-group tour for a unique chance to observe these and other magnificent creatures from the relative comfort of the boat deck. While the diving guests take their turns in the cage, you'll stay dry and enjoy the incredible sightings from the viewing deck. 
The expert guides onboard will provide interesting insights and observations into these sharks and their habitat. 
This intimate experience accommodates 15 people, ensuring a personalised adventure. Breakfast, lunch, and snacks are included, and for your convenience, round-trip transport from Cape Town is available at an additional cost of R650. 
Opening times: Monday – Sunday, 6:00 am – 6:00 pm
Address: Viator online
Contact: 1 (702) 648 5873
8. White Shark Diving Company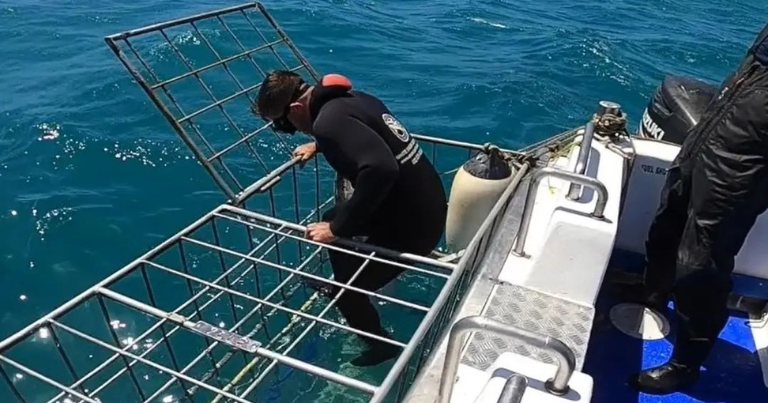 The White Shark Diving Company offers daredevils thrilling Shark Cage Diving trips in Gansbaai, with 1 to 3 daily trips from early morning to midday. 
They ensure intimate experiences by transporting small groups of people simultaneously, allowing for an enriching cage experience. 
The excursion takes around 4 hours and 30 minutes, with 2-3 hours spent at sea. Dive times and sessions vary based on shark activity and sea conditions. Travel time from Cape Town is about 2 hours, and transport can be arranged. 
Safety briefings are held before the trip, and guests can enjoy sightings of Great White Sharks and other forms of marine life from the boat's viewing deck. Meals and drinks are provided before and after the tour, creating an unforgettable adventure for visitors. Times may vary due to weather, tides, and shark activity.
Opening times: Daily, All Hours
Address: Van Dyk's Bay, 9 Kus Drive, Gansbaai
Contact: 082 559 6858
9. Impact Divers, Simons Town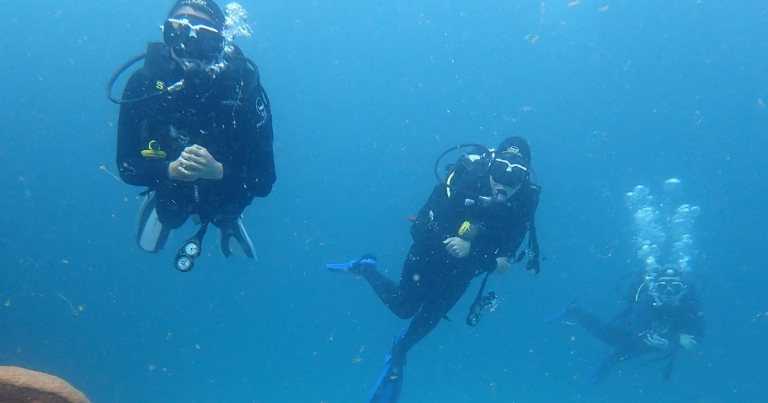 Explore the wonders of Impact Divers, Simons Town, Cape Town, on an enchanting dive into the vibrant Atlantic Ocean.
On your journey, you'll experience a myriad of sea life. You'll be surrounded by schools of Strepie fish and fascinated by colourful nudibranchs while swimming through fascinating caves and granite boulders. 
Your expert guide will lead you through beautiful kelp forests, pointing out hidden gems and creatures. There's even a chance for a cow shark encounter as they glide gracefully through the kelp strands. 
Kelp is not another name for seaweed. Kelp is a giant brown alga. Your package will include two guided dives, a Marine Protected Area permit, full equipment rental, coffee/tea, tasty snacks, and a marine biodiversity briefing.
Opening times: Monday – Friday 8:30 am – 5:00 pm; Saturday – Sunday, 8:00 am – 5:00 pm
Address: King George Way, Cape Town
Contact: 079 734 4884
10. Afternoon Shark Cage Diving Cape Town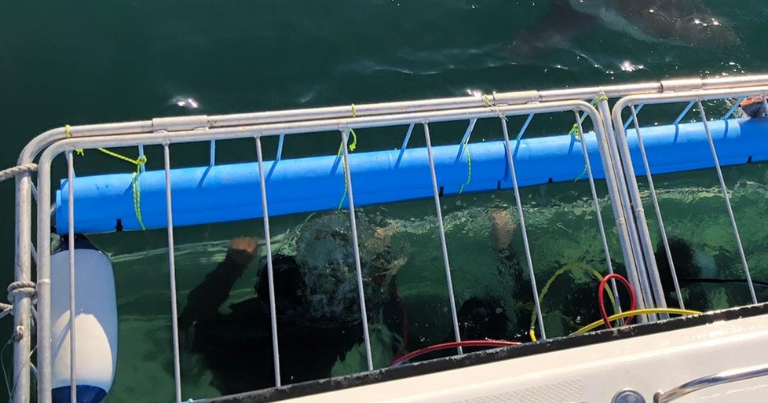 Join African Shark Eco-Charters for thrilling Shark Cage Diving with SCUBA in Simon's Town, Cape Town.
Making your way from Simon's Town, the group afternoon trips ensure comfort and exclusivity.
Once in False Bay, you'll have the opportunity to experience the majestic Great White, Broadnose Sevengill Cow, Blue and Mako sharks, and stunning Bronze Whalers, depending on the season. 
The tour is designed to make your experience unforgettable. Optional Cape Town pick-up is available. Arrive at the shop by 11:30 am, as punctuality is crucial. Set sail at midnight to Seal Island or Cape Point, where the boat tours Seal Island and anchors for cage diving—dive using scuba gear or snorkel while non-divers enjoy the viewing deck. Snacks, drinks, and equipment will be provided. Pack a rain/wind jacket, sunscreen, swimming gear, and a camera. Remember to bring sea sickness precautions along so that nothing awkward happens at sea.
Opening times: Monday – Sunday, 7:00 am – 5:00 pm
Address: 4 Wharf Street, Simon's Town, Cape Town
Contact: 082 674 9454
Also read: