Everyone deserves the perfect getaway of their dreams. For some, that perfect getaway is on a tropical beach in Asia. For others, it's a cultural exploration of an ancient city. However, for those who enjoy seeing magnificent views while sipping on award-winning wine, then a wine farm is the perfect vacation destination. Cape Town is ideal for such a vacation, with its famous Winelands spread throughout stunning scenic spaces. So let's look at 10 wine farm accommodation getaways that will leave you wanting to book your next vacation ASAP!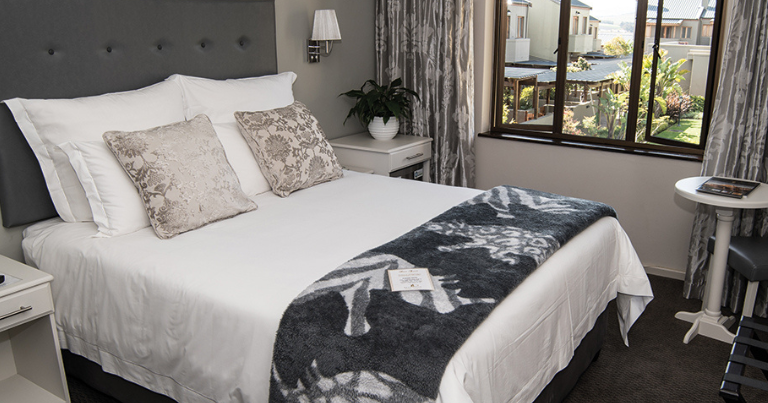 When it comes to wine farm accommodation, you don't want to miss out on experiencing Devonvale Golf & Wine Estate. Situated just 5 minutes away from the picturesque town of Stellenbosch, enjoy some award-winning wine along one of South Africa's oldest wine routes in South Africa. This accommodation is a true gem of Stellenbosch with its panoramic views of its rolling vineyards and majestic mountains. Make the most out of your stay by hitting a few golf balls on the Devonvale golf course or spoil yourself with a tasty meal at one of their 3 restaurants, and that is just the beginning.
Address: Bottelary Rd, Stellenbosch
Contact: 021 865 2080 info@devonvale.co.za
Website: https://devonvaleestate.co.za
Also, check out the top wine routes across South Africa.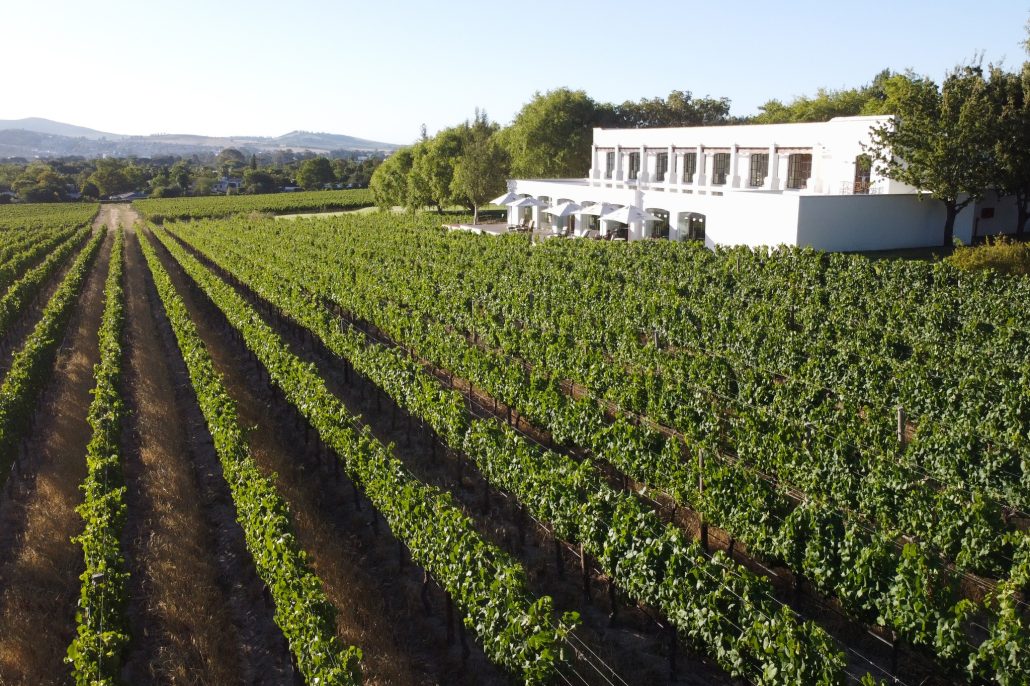 Set amongst far-reaching vineyards, flourishing gardens, and the grand Jonkershoek mountains, Lanzerac is among the world-class estates Stellenbosch has to offer. Established in 1692, immerse yourself in the old-world charm and rich Cape heritage while enjoying all the estate has to offer. Take some time for yourself by relaxing at the world-class spa, or sink your teeth into a mouthwatering meal at your choice of restaurant, each with its specialties. Don't forget to take advantage of their winery, which boasts various ranges, from the premium to the heritage range. There is undoubtedly something to make everyone's taste buds pop.
Address: 1 Lanzerac Road, Jonkershoek Rd, Stellenbosch, 7600
Contact: 021 887 1132 info@lanzerac.co.za
Website: https://lanzerac.co.za/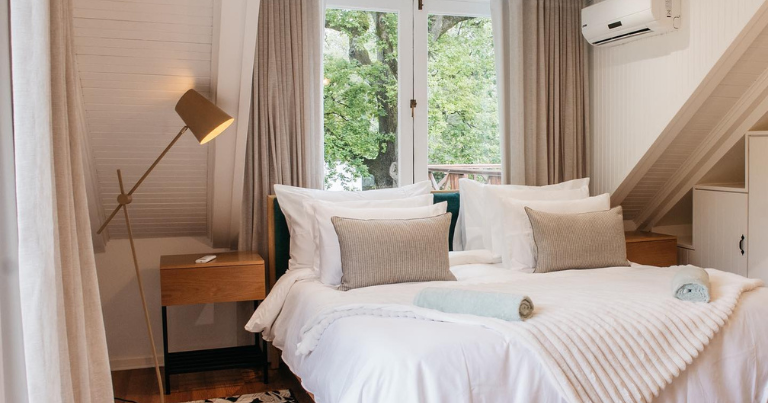 Finding a vacation spot that is great for the WHOLE family can be a real challenge. Parents might want to enjoy some wine with some peace and quiet, while kids want to have loads of fun throughout the day. Yet, Knorhoek Wine Estate is the perfect wine farm accommodation that will keep the whole family happy. Located in the Knorhoek Valley just outside of Stellenbosch, this homey wine farm stay is the ideal choice for families with fun activities such as bird watching, swimming streams, and rock pools, keeping the kids entertained while the adults can enjoy a wine tasting experience with the peace and quiet the environment thrives in.
Address: Knorhoek Rd, R44, Stellenbosch, 7605
Contact: 021 865 2114
Website: https://knorhoek.co.za/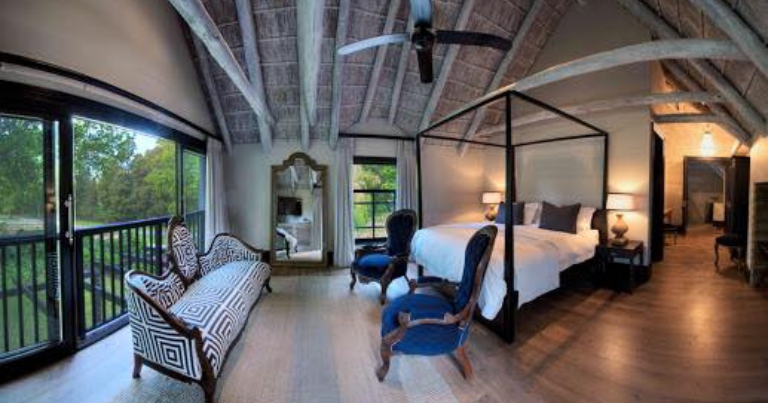 Do you want to enjoy all that a wine farm offers but also crave a tropical vacation? Then Molenvliet Vineyards is just the place for you. Set on the banks of the Banghoekrivier and surrounded by lush gardens full of ferns and palm trees, enjoy this luxurious wine farm accommodation in luxury.
While you enjoy your 5-star accommodation at MolenVliet Vineyards, make sure to spend some time tasting their award-winning selection of wines. MolenVliet Vineyards pride themselves on quality, not quantity, so you can rest assured that they have the finest selections for you to enjoy.
Address: Old Banhoek Road, Helshoogte Pass, Stellenbosch
Contact: 021 206 0822
Website: https://molenvliet.co.za/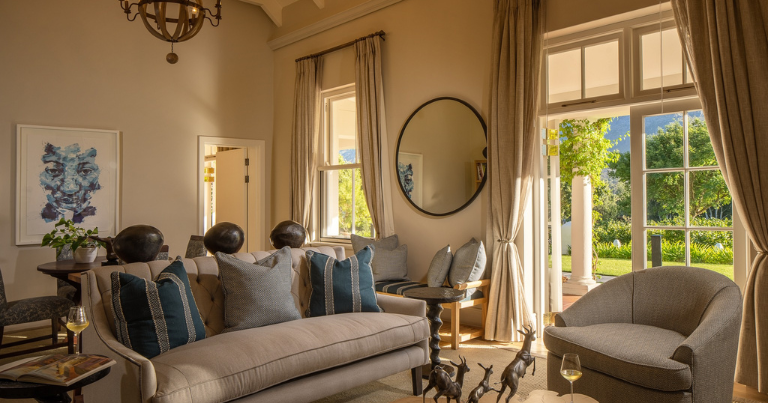 Leeu Estates is part of the international Leeu Collection, so you know you are getting a world-class wine farm accommodation experience. The toughest part of your vacation with Leeu Estates will be choosing your accommodation option. Would you like to stay in a luxury suite, a cosy cottage, or a spacious room? We couldn't possibly choose. Take some time to soak up the slopes of the Dassenberg mountain and take in the vast vineyards displayed throughout the estate. Once again, what's a wine farm stay without a wine tasting that will make you the envy of all your friends? Luxury accommodation, picturesque views, delicious wine, AND fine dining? Count us in!
Address: Dassenberg Rd, Franschhoek
Contact: 021 492 2222
Website: www.leeucollection.com/SA/leeu-estates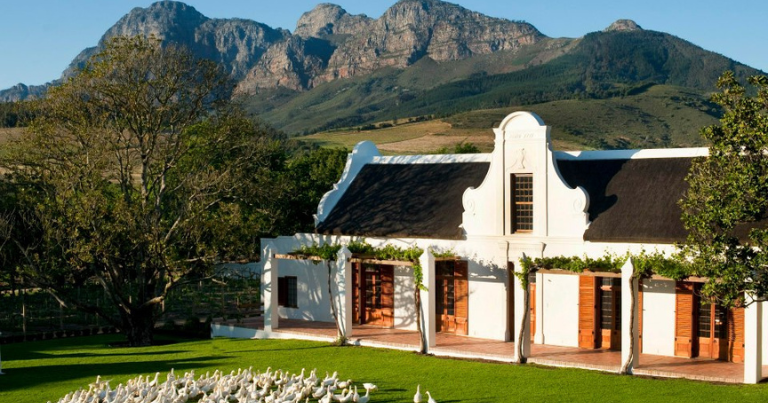 In the heart of the Cape Winelands, you will discover a stunning farm founded in the early 1960s. Babylonstoren Hotel is the ultimate getaway with restaurants to tickle those food lover taste buds, a chic wine tasting centre dedicated to your exploration of the wine made on site, as well as a selection of canoes and bike trails for those with an adventurous spirit. You are spoiled for choice in accommodation at Babylonstoren with options such as quaint garden cottages and rustic farmhouses, just to name a few. If you are looking for a vacation that will make history lovers, nature lovers, and sports lovers do a happy dance, then this is the perfect wine farm accommodation for you!
Address: Klapmuts – Simondium Rd, Simondium, 7670
Contact: 021 863 3852
Website: https://babylonstoren.com
If you want a more in-depth look at this wine farm, find out all you need to know about Babylonstoren!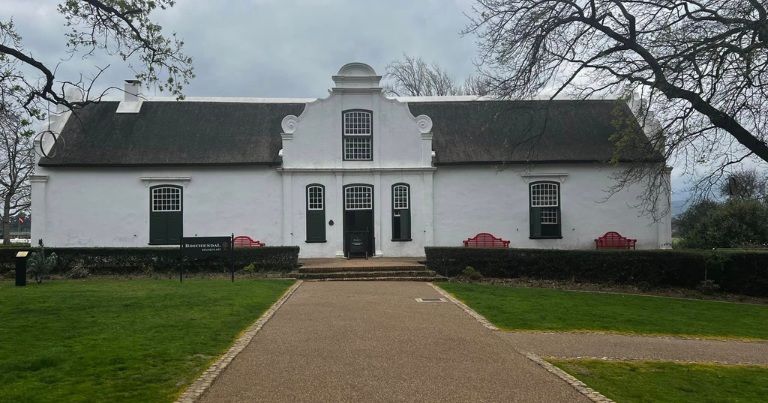 Boschendal Cottages is next on our list of the best wine farm accommodation spots in Cape Town. Wine farm accommodation such as this comes far and few in between and should be added to your bucket list for accommodation. Inviting guests for accommodation has only recently been introduced to the Boschendal Wine Estate, making it a very exclusive spot to vacation. It may seem like the luck of the draw to place your booking at one of their very few cottages, but it would be truly worth the effort!
At Boschendal Wine Estate, you can enjoy a truly authentic wine farm experience, with informative farm tours as just one of their activities for you to enjoy. The estate has multiple biking and walking trails throughout the premises for guests who prefer an active stay. For those who like a more watery vacation, trout fishing and swimming dams are fully available to you as a guest at Boschendal Cottages. There is truly something for everyone here, and if you do secure a spot at this estate, you are certainly among the lucky ones.
Address: Boschendal Estate, Pniel St, Groot, Franschhoek, 7680
Contact: 021 870 4200
Website: https://www.boschendal.com/accommodation/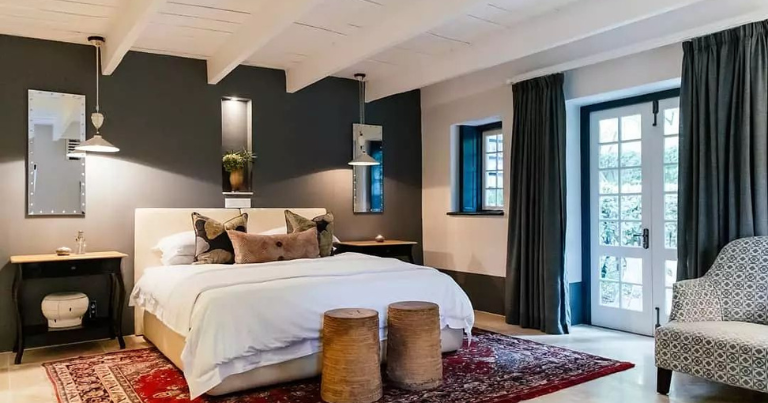 Just an hour's drive outside of Cape Town, you will discover your next dream wine farm accommodation. Designed with its stunning location in mind, Grande Provence Suites & Villa effortlessly blends in with the majestic Franschhoek mountains and sweeping vineyards while staying true to a Cape Dutch-inspired design. A stay at the Grande Provence Suites & Villa offers its guests a unique getaway experience with a highlight on art, culture, fine dining, and luxury accommodation. If you are an appreciator of natural beauty and local art, Grande Provence Suites and Villa is the spot for you. Eat delicious food, drink award-winning wine and take in all they offer.
Address: Main Rd, Franschhoek, 7690
Contact: 021 876 8600
Website: www.grandeprovence.co.za/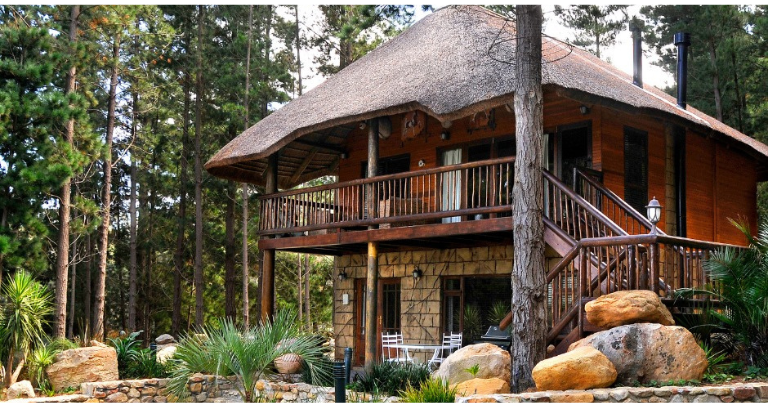 Get some peace and quiet at this wine farm accommodation located in the beautiful Franschhoek valley. With stunning scenic views, Chamonix is the ultimate getaway for wine and nature lovers.
Nestled on the eastern slopes of the Franschhoek mountains, guests can enjoy an unforgettable wine farm experience. Take part in an exciting game drive, explore the multiple walking and biking trails throughout the estate. You can also try their authentic cuisine, enjoy their wide range of wine. Or simply sit and take in the natural beauty on display for you. A stay at Chamonix would be an ideal vacation spot for just about anyone looking to enjoy some time away from the hustle and bustle of everyday life.
Address: 40 Uitkyk St, Franschhoek, 7690
Contact: 021 876 8400
Website: www.chamonix.co.za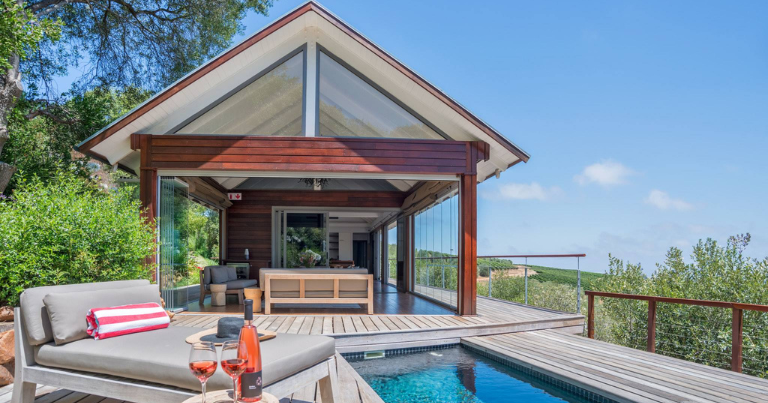 Are you looking for a vacation that will make you want to turn your phone off? Are you looking to lose yourself in some natural beauty while sipping world-class wine? Then the Hidden Valley Bush Lodge is the perfect place for you. This secret treasure on the slopes of the Helderberg Mountain in Stellenbosch offers its guests an elegant wine farm accommodation. It will leave you feeling well-rested and refreshed.
Address: Annandale Rd, Stellenbosch NU, Stellenbosch, 7613
Contact: 021 880 2646
Website: www.hiddenvalleywines.co.za
Vacation seekers are truly spoiled for choice when it comes to the perfect wine farm accommodation in Cape Town. So make sure to check out wine farm accommodation deals and find perfect spot for you that will leave you feeling content.