The Garden Route, which spans 300 or so kilometres along the southern Cape coast, is a well-liked vacation destination. It boasts natural breathtaking beauty, historic attractions, and its fair share of imaginative quirks. It is bordered by thick, lush forests on one side and a brilliant blue coastline on the other. There are countless opportunities for outdoor recreation and adventure near beaches, lakes, mountains, and rivers, making it a perfect holiday destination.
In this guide, you will find some of the best things to do on the Garden Route.
Check out our deals page or click the link below to see what's on today.
Planning a trip to the Garden Route? Check out these pages below:
Here are some of the best things to do on the Garden Route:
1. Visit the wild cats of Jukani Wildlife Sanctuary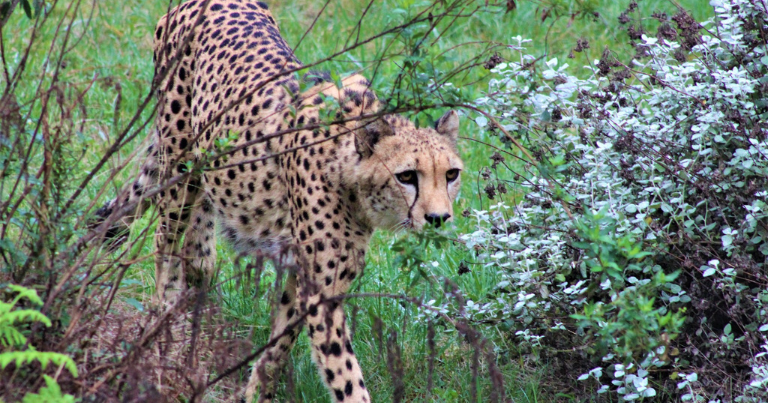 The enclosures at Jukani were created expressly to accommodate the demands and behavioural habits of the animals. The animals were saved from a variety of predicaments. It is a forever home for Apex predators such as the Big cats – Lions, Tigers, Jaguars and Leopards as well the sometimes-misunderstood predators like the Spotted Hyena.
Times: Monday – Sunday, 8 am – 5 pm
Duration: 1 hour and 20-minute
Cost: R350 (Adults); R175 (Children 3 – 12 years), Children under the age of 3 get free entry
Contact: 044 534 8409 
Address: Jukani Wildlife Sanctuary, Off the N2, The Crags, Western Cape, South Africa
2. Take an adventure on Robberg Hiking Trails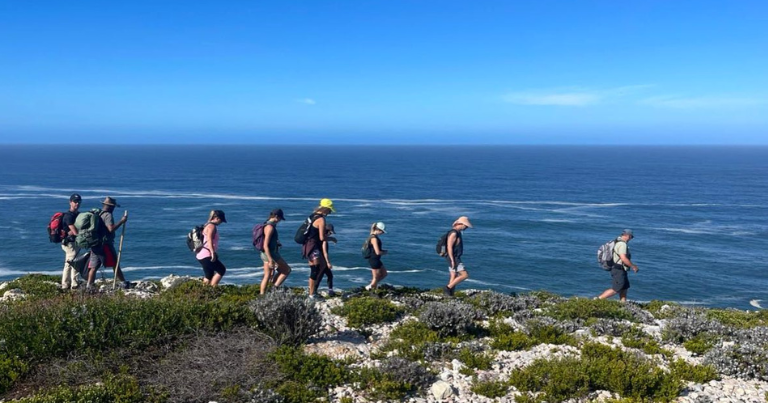 Due to its ancient rocks and Stone Age settlements, the Robberg Peninsula is a natural national monument. With its craggy coastline, breathtaking sea views, and varied landscapes, it's also an exceedingly beautiful, unspoiled place to go for a walk. You'll see seabird and seal colonies, dolphin and whale sightings (during the appropriate season), and perhaps even a rare blue duiker standing tall. Ancient caves, a lighthouse, picnic/viewing decks, a shipwreck, rock pools, and the magnificent Witsand dune may all be found along the three hiking trails.
Times: Monday – Sunday, 8 am – 6 pm (November – April: 7 am – 6 pm; May – October: 8 am – 6pm)
Cost: R50 (Adults), R30 (Children)
Contact: 044 533 2125
Location: Robberg Road, Plettenberg Bay, Western Cape, South Africa
3. Keurbooms River Ferries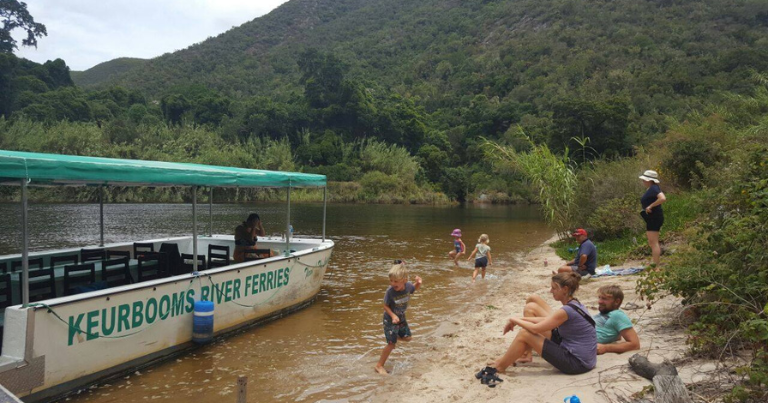 To truly experience the majestic beauty of the Keurbooms River, book a trip with the Keurbooms River Ferries. The boat ride spans a distance of 5 km, and once you and your friends or family members arrive at the river shore, you'll have the opportunity to enjoy a pleasant picnic, have a calm swim, or laze on the shore enjoying the sunlight. On the boat ride, you'll also have the opportunity to see many bird species.
Times: Monday – Sunday, 11am and 2 pm tours depart (5 pm additional tour departure during the summer months)
Cost: R260 Per adult (19 years and older); R190 per teenager (13 – 18 years); R120 per child (5 – 12 years), Free for toddlers and babies (new-born – 4 years)
Address: Plettenberg Bay Angling & Boating Club, N2, Keurboomsrivier
---
Also Read: Explore Johannesburg Zoo
---
4. Book a Safari Game Drive at Plettenberg Bay Game Reserve 
It might not be as large as the Kruger National Park, but, the Plettenberg Bay Game Reserve carries its own unique charm. During the drive, you'll come across four of our big five including the elephant and giraffe. In addition, your eyes will be awestruck by the vast number of bird species that fly overhead, along with the spectacular views throughout this lovely adventure.
Times: Book for safari drive time slot
Duration: 2 hours
Cost: R590 per person for day visitors; R490 per person for reserve guests
Location: Uplands Road, Wittedrift, Plettenberg Bay
Contact: 084 449 1275
Accommodation in & around the Garden Route 
Knysna
5. Admire the Magnificent Scenery of the Garden Route National Park 
The Garden Route National Park is a national park in South Africa's Western Cape and Eastern Cape provinces that is located along the Garden Route. The Otter Trail and its native woodlands make this coastal reserve famous. It also has a magnificent coastline. The Tsitsikamma and Wilderness National Parks, the Knysna National Lake Area, and many other state-owned lands were combined to form it on March 6, 2009.
About 685 km2 of the park's 1,210 km2 total area was already a part of its predecessor national parks. The park contains an uninterrupted structure of native woodland covering around 605 km2. The Garden Route National Park is unique in Southern Africa as the only place where rain falls continuously throughout the year.
Times: Monday – Sunday, 7.30 am – 4 pm
Cost: Prices vary for each gate/park 
Contact: 044 877 0046
6. Seven Passes Drive 
Up for an exploratory drive off the beaten path? Discover the Seven Passes Drive stretching from Knysna to George. It goes without question that to really enjoy all this adventure has to offer, the ideal choice of vehicle hardware would be a well-kept and reliable bakkie or SUV simply due to the rough terrain that awaits you (although you can risk it with a normal vehicle if you choose). Throughout the 75 km drive, iconic landmarks will meet you which include the 800-year-old Outeniqua yellowwood tree which stands at a colossal 33 metres, and the many historic bridges you will drive over among many other sites.
Duration: 2-3 hours
Cost: Free
Where to find it: Start from Knysna, follow Phantom Pass Road onto 7 Passes Scenic Drive. Start from George, turn from Knysna Road onto Madiba Drive which leads to 7 Passes Road.
Why don't you also see 18 of the top things to do in George?
7. Scoot Through the Forest  
On a thrilling scooter, Scootours operators will ensure your safety as you explore the Knysna Forest. The sturdy, Swiss-made scooters can readily withstand sweeping turns and downward falls. You may get a chance to see some of the wildlife that lives in the dense forest along the path, including the Knysna loerie, the bushbuck and wild boar.
Times: Monday – Sunday, 9 am, 12 pm, 3 pm (During summer months); Monday – Sunday, 11 am, 2pm (During winter months)
Duration: 2 hours
Cost: R600 (Adults); R300 (Children 4 to 9 years); R75 (Snack pack)
Address: Shop TH24B, Thesen Island Café & Shop, Long Street, Thesen Island, Knysna
Contact: 079 148 3751
8. Knysna Scenic Lagoon Cruise 
You can witness a wide variety of bird and marine life while taking a scenic cruise around Knysna's serene lagoon all the way to the famous Knysna Heads, a pair of sandstone cliffs that serve as a natural entrance to the ocean beyond. While you're there, treat yourself to some snack platters, oysters, and champagne (or wine) for an extra fee.
Times: Monday – Sunday (December – February; 9 am, 11 am, 1 pm, March – April; 8 am, 10 am, 12 pm, May – August; 9 am, 11 am, September – November; 10 am, 12 pm)
Duration: 1 hour 40 minutes
Cost: R450 (Adults); R250 (Children under 12); R80 (Snacks); R35 each (Pre-booked medium oysters)
Address: Sirocco Jetty Thesen Island, Knysna
Contact: 076 761 0353
---
Also Read: The 10 Best Restaurants in Fourways
---
9. Hiking in Knysna 
The Garden Route National Park is a bustling centre of activity and a verdant coastline area that calls to travellers. As would be expected, there is no shortage of hiking routes that wander inland through the trees and along the shore.
The length and degree of difficulty of the trails vary. The Garden of Eden Trail is perfect for people seeking a quick stroll through the woods because it crosses several moderate streams on wooden bridges and has picnic tables and seats along the route.
For those looking for a true adventure, there is the Outeniqua Trail, a seven day trek from Knysna to Plettenberg Bay that requires an average of six hours of hiking each day and takes you through forests, rivers and along the coast. Booking is required, as the overnight huts can only hold a certain number of people.
Cost: Most trails require permits, which can be purchased at the park entrance gates. SANParks Daily Conservation fees: R44 (Per adult per day); R22 (Per child per day)
10. Close Encounter Whale-Watching  
An experience that won't soon be forgotten is getting a close-up look at one of these gentle giants. Bryde's whales and dolphins frequently visit the coastal waters near Knysna, and during the breeding season, southern right and humpback whales also make an appearance (June to October). Whale sightings occur on 95% of voyages during the height of the whale season.
Times: Monday – Sunday,9.30 am; 12 pm; 3 pm (June – November; weather-permitting)
Duration: 2 hours
Cost: R1 360 (Adults); R1085 (Children under 12)
Address: Ocean Odyssey Charters & Retail store TH 22, Long Street, Thesen Harbour Town, Thesen Island, Knysna
11. Bloukrans Bungee 
The 216 m drop of the highest natural commercial bungee jump in the world provides an intense rush of excitement. After jumping, you get to take the Sky-Walk, a walkway suspended from the base of the bridge, for those who want to experience the breathtaking views but don't want to bungee. You travel to your launch spot at the top of the bridge arch via zipline, which is thrilling enough.
Times: Monday – Sunday, 9 am – 5 pm
Cost: R1 490 (bungee), R350 (sky-walk tour)
Contact: 042 281 1458
Location: Bloukrans River Bridge, Tsitsikamma, Plettenberg Bay, 6600
12. Kayak and Lilo on Storms River 
Discover the peaceful ponds, caves, and historic woodlands of this secret and often inaccessible world by travelling via the spectacular Storms River Gorge. The journey starts with a paddle in the ocean beneath the well-known Storms River Mouth suspension bridge before continuing upriver amid breathtaking cliffs and into a small cave. You switch from the kayak to a lilo when the water becomes shallower and drift deeper into the gorge. An opportunity to try some cliff jumping into deep waters is provided on the way back. It is appropriate for people of all fitness levels and kids as young as 5.
Times: Monday – Sunday, 9 am – 5 pm
Duration: 2.5 hours
Cost: R750 per person (Optional extras – R140); R70 per adult, R35 per child (Daily Conservation fees)
Address: Untouched Adventures, Storms River small boat harbour (via entry gate to Tsitsikamma National Park office)
Contact: 073 130 0689
13. Go Zip lining through the Tsitsikamma forest  
This is unquestionably for adventure seekers who want to explore the Garden Route. You'll be swinging from the trees on this zipline tour, and the Tsitsikamma forest is the ideal site to do it. Safety first though! Your guides will harness you to a steel line, so that you can slide between wooden platforms. All you need to worry about is spotting birdlife and taking in the magnificent forest. Bookings are essential.
Times: Monday – Sunday, 10 am – 3 pm
Duration: 1 hour
Cost: R600 per person (Adults and children); R63 per adult, R31 per child (Daily Conservation fees)
Zipline Weight Restriction: Up to 100 kg
Address: Farm 509/1 Witesbos, Tsitsikamma
Contact: 082 383 9744
14. Go Snorkelling at Storms River Mouth  
On a "sea safari," learn what occurs beneath the water's surface when the river and the ocean meet. The Storms River Mouth is pure and bursting with life because it is a protected area. Check out the colourful and intriguing marine life in the tidal pools, follow schools of fish over the reefs, and keep an eye out for rays and starfish on the sea floor. For beginners, kids, and groups, guided outings are available. Wetsuits and snorkelling equipment are also provided.
Times: Monday – Saturday (weather and water conditions permitting)
Duration: 1 hour
Cost: R440 (Guided snorkelling tour includes full gear); R200 (Self-guided tours includes full gear); R100 (Self-guided tour with wetsuit only); R70 per adult per day, R35 per adult per day (Daily Conservation fees) 
Location: Untouched Adventures, Storms River small boat harbour (via entry gate to Tsitsikamma National Park office)
15. Explore the Kaaimans River  
This peaceful river begs for exploration, and Paradise Adventures' guided kayaking tour takes you through a dam to a waterfall surrounded by thick woodlands where you can swim and have a picnic (there's a gourmet option with cheese and wine).
Times: All operating hours (Booking for kayak required)
Duration: 3 – 4 hours depending on extra activities
Cost: R500 (Per person with kayak with a guided scenic tour), R400 (Self-guided tour with a 2 seater kayak)
Location: Timberlake Organic Village, N2 (towards Sedgefield)
Contact: 082 764 3112
16. Acrobranch Garden Route 
With fun, age-appropriate tree-top courses, you can unleash your inner Tarzan. Nestled in a patch of forest, it provides a network of brain- and muscle-stimulating routes to navigate in a picturesque, fresh-air setting.
Times: Wednesday – Sunday, 9 am – 5 pm
Duration: 2 hour
Cost: R160 – R290 (depending on course)
Location: Timberlake Organic Village, N2 (towards Sedgefield)
Contact: 086 999 0369
17. Wild Oats Market  
The Wild Oats Farmers Market is arguably one of the most iconic farmer's markets along the Garden Route. Born in 1999, the point of focus for the founders was simple, promote and sell locally sourced and sustainable produce. Once you enter the market, you will be met by a healthy array of high-quality products, including homemade sauces, cheeses, and incredibly fresh and light breakfasts for you to enjoy while you stroll through the many unique sellers.
Times: 8:30 am or 12 pm (Every Saturday)
Duration: 3.5 hours 
Cost: Costs may vary but entry is free
Location: N2, Sedgefield (19.9 km away from Wilderness)
Contact: 082 376 5020

18. Wilderness National Park 
South Africa's Garden Route is home to the Wilderness National Park. With lush forests and towering mountains as a backdrop, it is a wonderful combination of rivers, lakes, estuaries, and beaches. The region is stunningly covered in a kaleidoscope of colourful blossoms in the spring, accentuating its profound beauty.
The busy cities of George and Knysna, both top Garden Route tourist destinations, are gently sandwiched by the stunning and well-liked Wilderness National Park.
Times: 7am – 5.30pm (SANParks office)
Contact: 044 877 1197
Location: Ebb & Flow Camp (SANParks office), Ebb and Flow Drive, off N2
 19. Kingfisher Trail  
The Wilderness National Park has five hikes. The 3.5 km Giant Kingfisher Trail along the Touw River is the only one that leads to a waterfall where you can swim and have a picnic. There are two trails: the 4.1 km Brown Hooded Kingfisher Trail and the 7.2 km Half Collared Kingfisher Trail, both of which lead to the Duiwe River picnic area.
Duration: 1 – 4 hours
Times: 7am – 5.30pm (SANParks office)
Cost: R52 Per adult per day; R26 Per child per day
Contact: 044 887 0046
Where to find it: Ebb & Flow Camp (SANParks office), Ebb and Flow Drive, off N2
20. See the Map of Africa  
This viewpoint in Wilderness Heights is ideally situated to enjoy a land formation in the shape of Africa made by the Kaaimans River in the densely forested valley below. It is a popular site to take photos and break a road journey. You can see the five lakes and an 18 km stretch of lovely shoreline. It's a well-liked location for paraglider launches and a fantastic place for a picnic on the grass.
Frequently Asked Questions about the Garden Route 
Why is the Garden Route called the Garden Route?
The name comes from the verdant and ecologically diverse vegetation encountered here and the numerous estuaries and lakes dotted along the coast.
Why is the Garden Route a tourist attraction?
One of the top scenic drives in South Africa, the Garden Route offers a little of everything for which this sun-soaked country is famous: spectacular scenery, fascinating wildlife, and adrenaline-fueled adventure.
What is the Garden Route famous for?
The beautiful, native forests, peaceful lakes, and golden beaches of the Garden Route make it a natural paradise.
The Garden Route provides a coastline of some 300 km between Mossel Bay and Plettenberg Bay. Mountains crowd close to a shoreline dotted with beaches and bays, and vividly coloured wild flowers delight the eye.
Related posts