The city of Port Elizabeth officially known as Gqeberha is a prominent seaport and South Africa's most populous city in the Eastern Cape region. There are countless opportunities for outdoor recreation and adventure. With little to no traffic, fantastic dining options, clean ocean air, and convenient access to amazing wildlife – this makes Port Elizabeth the perfect holiday destination.
& for you to have the best experience whilst you are here we have come up with this guide where you will find some of the best things to do in Port Elizabeth.
Check out our deals page or click the link below to see what's on today in.
Planning a trip to Port Elizabeth? Check out these pages below:
Here are some of the best things to do in Port Elizabeth:
1. Go on Safari at the Addo Elephant National Park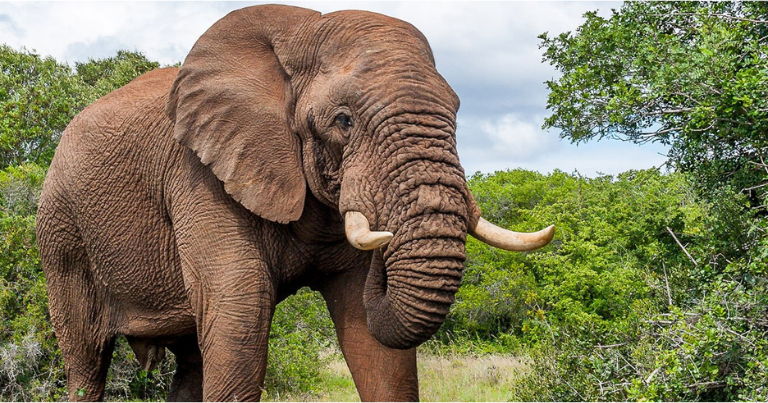 Addo Elephant Park is frequently regarded as one of the top South African destinations. The park was first established in 1931 and only in Port Elizabeth can you witness the "Big 5" national park just thirty minutes away. Addo Elephant Park is also brimming with thousands of little creatures which guarantee an unforgettable day out.
Times: Monday – Sunday, 7 am – 6 pm
Cost: R90 (adults), R180 (For SADC Residents); R45 (children 5 – 14 years)
Contact: 042 233 8600
Address: Addo, 6105
2. Admire the Magnificent Scenery of the Van Stadens Wildflower Reserve
The Van Stadens Wildflower Reserve is a hiker's dream come true. The 500-hectare reserve, which is located 35 kilometres west of Port Elizabeth, is most likely the best location in the area to go and witness Proteas in the wild. It has the advantage of having various flowers blooming throughout the year, so there is always something to see.
Numerous routes are available, ranging from short, simple strolls through the fynbos, past the dams, or to the arboretum and bird hide on the plateau, to longer hikes along the Forest and River trails that descend into the valley. 
Times: Monday – Sunday, 7 am – 6 pm
Contact: 041 956 0155
Address: Cape Rd, Uitenhage Farms, Gqeberha, 6001
3. The Goodnight Market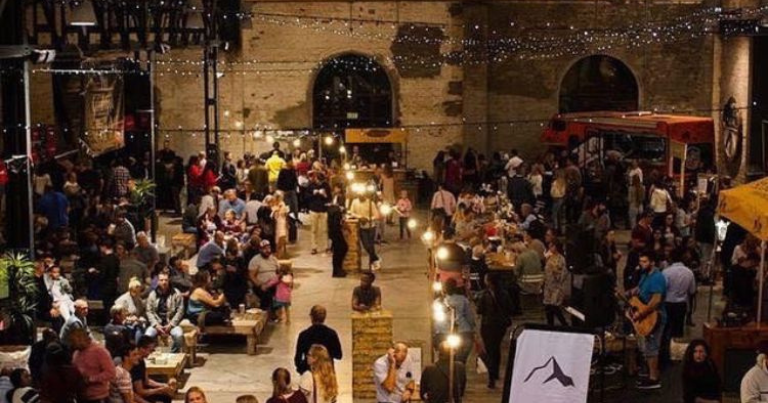 Visit one of the popular markets in Cape Town, the Goodnight Market, for a delectable feast of handcrafted goods on the last Thursday of the month. You may discover something for every member of the family at the market because it brings together the best of Port Elizabeth's distinctive cuisine establishments.
Times: Every last Thursday of the Month, 5 pm – 9 pm
Cost: R20 entry fee
Address: 16 Lower Valley Rd, South End, Gqeberha, 6001
4. Kragga Kamma Game Park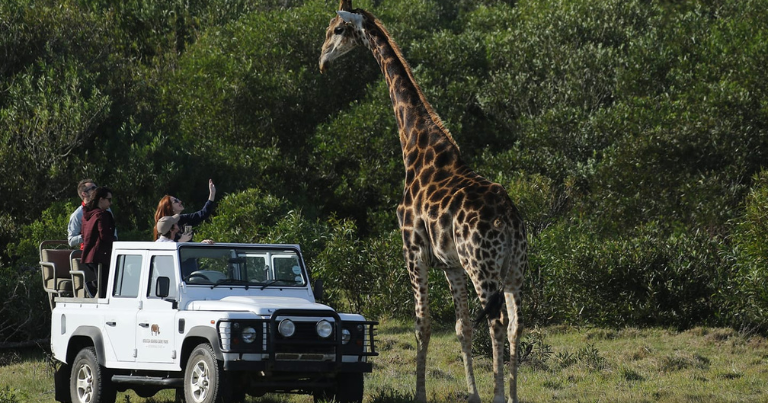 Kragga Kamma, a sanctuary for free-roaming white rhino, buffalo, cheetah, giraffe, zebra, nyala, bontebok, and lechwe, is only a short drive from the city. You could either undertake a self-drive or book a moderately priced game drive.
In addition to the game drives, you can also take part in other activities like bird watching from the Treetop Boardwalk, dining at The Bush Café for lunch or dessert, having a barbecue in the shaded picnic area, or taking a peaceful stroll along The Monkey Walk where you might see vervet monkeys, cheetahs, or the shy and elusive blue duiker.
Times: Monday – Sunday, 7 am – 6 pm
Contact: 041 956 0155
Address: Cape Rd, Uitenhage Farms, Gqeberha, 6001
5. Singa Lodge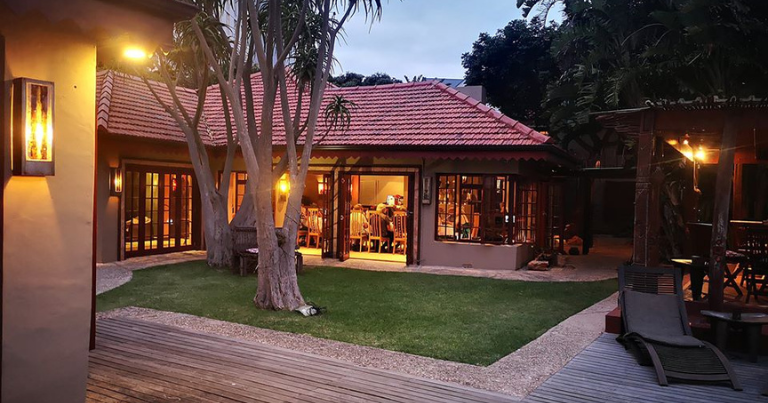 If a romantic getaway is your experience of choice, a one-night stay at the Singa Lodge in Summerstrand might be for you. Located near the Port Elizabeth coast, your comfort is guaranteed at an affordable price. Catered to foster an intimate atmosphere, each room is styled with a strong and distinctive design, ensuring an unforgettable experience.
Times: Book for lodge reservations
Contract: 041 503 8500 (For Daddy's Deal)
Address: 15 Scarborough St, Summerstrand, Gqeberha, 6001
6. Adrenalin Addo – Zip Line
Experience one of the most fun things to do in Port Elizabeth when you take on the longest dual-zipline experience in Africa! They have an automated stopping system for safety so you can relax and take it all in without being concerned about slowing down.
Times: Tuesday – Saturday, 9 am – 4:30 pm; Sunday, 9 am – 1 pm, Monday – Closed
Cost: R370 (adults), R270 (children over 13)
Contact: 078 911 1619
Address: R336, Summerville, Addo, 6105
7. Tour the Volkswagen Museum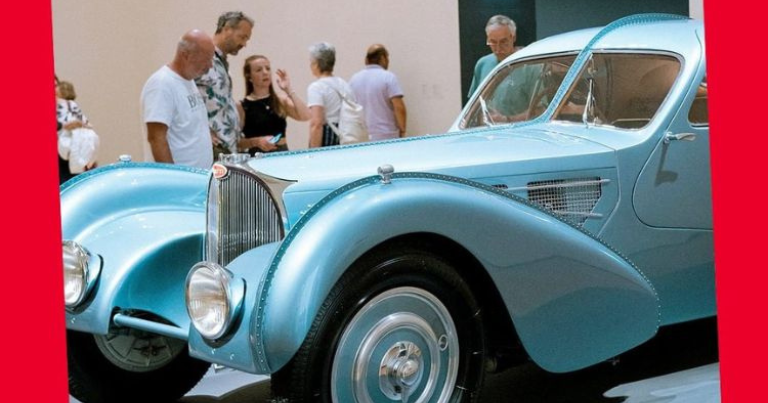 The Volkswagen Museum in Uitenhage is another great excursion to plan. On a scheduled tour of the Volkswagen Factory in Uitenhage, car enthusiasts will be in automotive nirvana. You'll meet Herbie, see a car cut in two by a laser, and the oldest kombi in South Africa! Simply enter the address from the website into your GPS since Google Maps has no idea where this location is.
Times: Monday – Friday, 8.30 am — 4 pm, Saturday – Sunday (Closed) 
Duration: 1 hour
Location: 103 Algoa Rd, Alexander Park, Kariega, 6229
8. Visit the Pearson St George's Park Conservatory
The second-oldest cricket club in South Africa is located in St. George's Park, which is known as Port Elizabeth's oldest park and has held numerous test matches throughout the years. The conservatory, a stunning specimen of Victorian design, was inaugurated on September 12th, 1882. Despite promises to demolish it, it has survived to this day and still houses interesting orchids and hot-house flowers while they are in bloom. St. George's Prep students continue to dress up for their yearly Victorian tea and stroll across the park.
Times: Monday – Sunday, 6 am – 5 pm
Contact: 041 392 4187
Address: 11 Consulate Pl, Port Elizabeth Central, Gqeberha, 6001
9. The Chef's Playground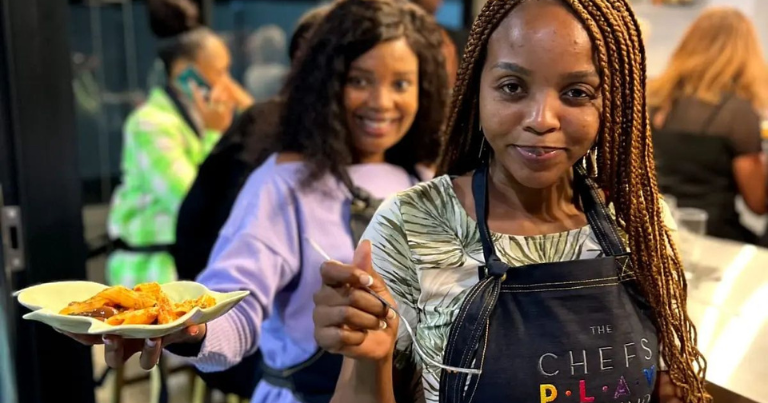 Do you consider yourself a gourmet chef in the kitchen? Experiencing The Chef's Playground in Port Elizabeth could be the culinary challenge you need. In this foodies project, you will have the opportunity to prepare six complex dishes alongside award-winning chefs. Take a day out to learn something new or simply enhance your competence in the kitchen at the Chef's Playground.
Times: Arrange by appointment
Contact: 041 555 0445
Address: The Elvee, 277 Main Road, Walmer, Port Elizabeth
Beaches and viewpoints in Port Elizabeth 
Some of the most breathtaking beaches in the nation may be found in Port Elizabeth. Even at the height of the holiday season, there will be a spot on one of the PE beaches for you to set up an umbrella and unwind because the Eastern Cape is still a reasonably tranquil region. The water is warm, with summer highs of 23 degrees Celsius and winter lows of about 16 degrees.
10. Hobie Beach
Hobie Beach is a terrific place to launch a boat, play a rousing game of volleyball, go windsurfing, go swimming, or just relax in the sun. Children especially will enjoy exploring the tiny rock pools.
Address: 1 Marine Dr, Schoenmakerskop, Gqeberha, 6013
11. The Humpback Dolphin Trail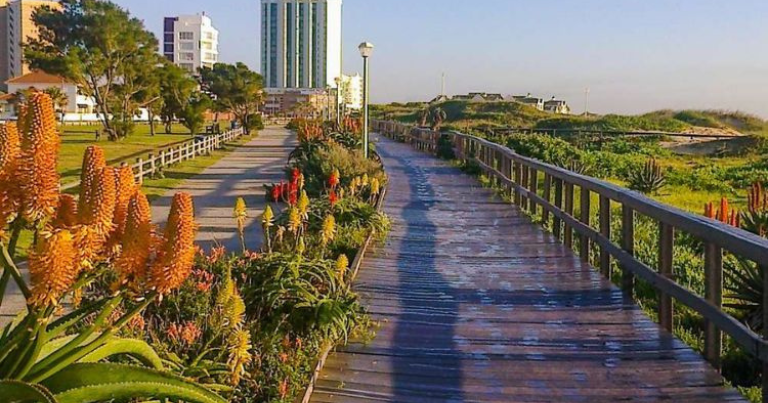 One of South Africa's nicest city beachfronts must be in Port Elizabeth. From the Kings Beach parking lot to the lollipop beacon, there is a promenade that runs down the seaside, taking in sights like McArthur Pool, Bayworld, Humewood Beach with its historic slipway, Shark Rock Pier, The Boardwalk, and all the surf spots. It's not unusual to see some bottlenose dolphins swimming past while out for a morning jog or stroll along the beach.
Address: 242 State President C R Swart Rd, Brenton-on-Sea, 6571
12. Sardinia Bay Beach
Travelling along Sardinia Bay Road will allow you to reach this unspoiled shoreline, which is situated between Schoenmakerskop and Sea View. The sunbathing paradise, complete with picnic areas, is well-known for its almost ideal beach and its close proximity to the Sacramento hiking path. Fishing is not allowed because the region has been declared a Marine Reserve, however, building sandcastles is a must.
Address: Sardinia Bay Rd
13. Donkin Lighthouse for city views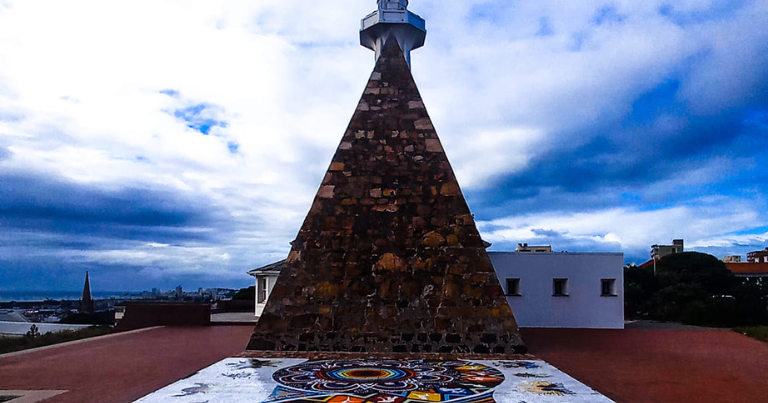 The top of this lighthouse in the Donkin Reserve, which currently functions as a tourist information centre, offers stunning views of the city. It is more than 150 years old and was built in 1861. A monument in the form of a pyramid is also part of the reserve. You'll not only have fantastic city views, but also fantastic photo chances!
Address: Athol Fugard Terrace, Central, Gqeberha, 6001
More things to do in Port Elizebeth
14. Sacramento Trail
Schoenmakerskop to Sardinia Bay and back are separated by an 8-kilometre stretch of the Sacramento Trail. The Sacramento is arguably Port Elizabeth's favourite route; it provides some of the area's best coastal views and is a photographer's and nature lover's paradise.
15. Penguins at SANCCOB
One of the best things to do in Port Elizabeth without a doubt is this! Visit these beautiful birds dressed to the nines at the Cape Recife Reserve's SANCCOB marine bird rehabilitation facility. The hospital welcomes guests to learn more about how to treat some of the injured birds.
Times: Monday – Sunday, 9 am – 4 pm
Contact: 063 942 4702
Address: Marine Dr, Cape Recife, Gqeberha, 6011
Places to eat in Port Elizabeth
Whatever grabs your culinary fancy, you'll find a variety of restaurants in Port Elizabeth dishing it up. From upscale dining to family-friendly eateries, fast-food joints, and themed cocktail bars, there is something for everyone in Port Elizabeth's vibrant restaurant scene.
Here are some of the finest establishments on offer in Port Elizabeth:
16. Muse Restaurant
Muse offers Nouvelle cuisine which means the aim is on serving the best and freshest ingredients available with an emphasis on presentation. As stated by the owners Allan and Simone Bezuidenhout, Muse looks at food as an art form making this experience different from any other restaurant you will find in Port Elizabeth
Opening times: Tuesday – Saturday, 12 pm – 10 pm, Sunday – Monday (Closed)
Their service options: Sit-in and Delivery
Rating (Google reviews): 4.8
Contact: 041 582 1937
Address: 1B Stanley Street, Richmond Hill, Gqeberha
17. SUKI Sushi & Asian Cuisine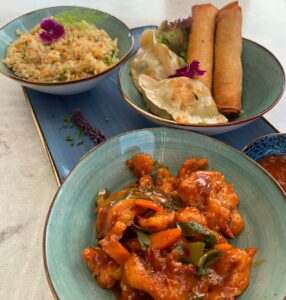 SUKI Sushi & Asian Cuisine is known for creating award-winning cuisine, making it the trendiest restaurant in Port Elizabeth. The atmosphere is relaxed and the décor is elegant and contemporary.
Asian tapas and tempura prawns are two of the menu items that are particularly popular. For an exceptional dining experience, the kitchen team goes to considerable lengths to find the best flavours.
Opening times: Monday – Sunday, 11 am – 10 pm
Their service options: Sit-in and Delivery
Rating (Google reviews): 4.5
Contact: 041 581 1111
Address: 55 Prospect Rd, Walmer, Gqeberha, 6065
This is one of the restaurants in Gqeberha that is situated directly on the beach and has a view of Shark Rock Pier. In the last several years, the restaurant has become well-known among young people for its aesthetically pleasing fare and contemporary approach to cooking. Although there are some traditional foods on the menu, most guests come to sample the increasingly well-liked modern dishes.
Opening times: Monday – Sunday, 11 am – 3 pm; 6 – 10 pm
Their service options: Sit-in
Rating (Google reviews): 4.4
Contact: 041 583 1229
Address: The Beach Hotel, Marine Dr, Summerstrand, Gqeberha, 6000
19. Beer Yard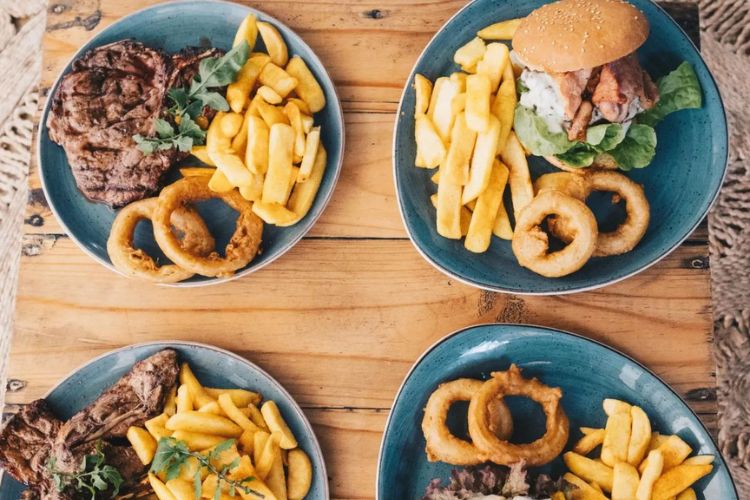 If you are looking for something chic and cosy then the Beer Yard is the perfect place for you. Get your hands on a beer and burger, any day of the week. With a selection of hand-picked craft beers, a relaxed location, and honest-to-goodness burgers you can't go wrong with this establishment.
Opening times: Monday – Sunday, 10:30 am – 11 pm
Their service options: Sit-in, Takeaway, and Delivery
Rating (Google reviews): 4.4
Contact: 041 582 2444
Address: 1 Cooper Street, Richmond Hill St, Gqeberha, 6001
20. Tabú Grill Bar and Lounge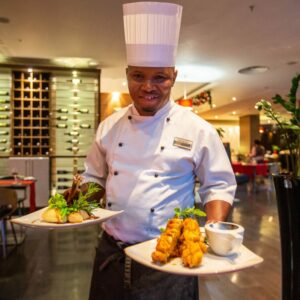 Tabú takes great satisfaction in providing a nice, laid-back ambiance and a distinctive overall dining experience. Customers can eat while sitting and seeing the Indian Ocean from their seats. The restaurant is located in Summerstrand and is a component of the exceptional Radisson Blu Hotel. The cuisine is straightforward and uncomplicated, offering large, honest flavours in dishes that vary from classic meaty South African favourites to Indian curries and shellfish prepared using European techniques. The décor is appropriately stylish and modern.
Opening times: Monday – Sunday, 6.30 am – 11 pm
Their service options: Sit-in and Delivery
Rating (Google reviews): 4.0
Contact: 041 509 5000
Address: Marine Dr, Summerstrand, Gqeberha, 6001
Frequently Asked Questions about Gqeberha
Why is Port Elizabeth called Gqeberha?
In 2019, the Eastern Cape Geographical Names Committee recommended that Port Elizabeth be renamed Gqeberha, after the Xhosa and Southern Khoe name for the Baakens River that flows through the city.
What languages are spoken in Port Elizabeth?
Some of the main languages spoken in Port Elizabeth are Xhosa, English and Afrikaans.
Related posts