Looking for things to do in Johannesburg at night? Look no further. Johannesburg offers a vibrant nightlife with a host of activities to enjoy.
Art lovers can explore the city's art galleries showcasing local and international talent. Foodies can indulge in a brilliant culinary scene with great restaurants and delicious dishes.
For a cultural experience, catch an incredible locally produced theatre show that will leave you in awe. Embrace the night and experience the best that Johannesburg has to offer, creating unforgettable memories in the city of gold.
1. Pata Pata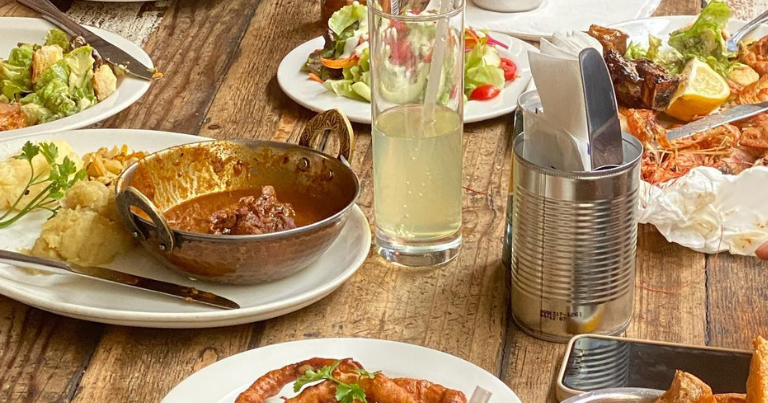 Pata Pata in Johannesburg offers an authentic taste of South Africa, perfect for international guests seeking the authentic local experience.
Named after the iconic song by Miriam Makheba, the restaurant serves up local favourites like morogo and dombolo using only fresh ingredients. Bobotie spring rolls, with tangy sweet chilli sauce, are popular among patrons.
The tasty lamb shank served with steamed dumplings and butternut, accompanied by morogo, is a pure delight. The fillet steak with peppadew and honey mustard sauce is also highly recommended.
Vegetarian and vegan options are available, and generous portions are served. The warm and friendly atmosphere, combined with the vibrance of Maboneng, creates a memorable dining experience.
Address: 286 Fox St, Jeppestown, Johannesburg
Opening times: Monday – Sunday, 8:00 am – 11:00 pm
Contact: 073 036 9031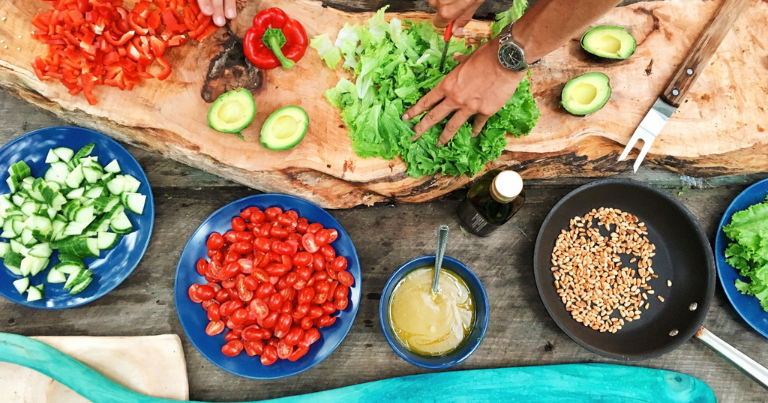 Cooking's Cool in Johannesburg offers a unique 3-hour cooking class for one. They go beyond simple cooking lessons, providing unique experiences for beginners and expert foodies alike.
Discover a world of flavours and meet new people while learning to cook up locally inspired dishes. Themes include Tastes From Around the World with butter chicken curry, a high-end High Tea Experience featuring freshly baked scones and spanakopita.
The Lighter & Healthier Option includes chicken kebabs and grilled ostrich. If you want to make something hearty, pick an option from the Hearty, Wholesome & Familiar Favourites category.
These include lamb curry or ostrich pie. Snack and big breakfast classes are also offered in this Daddy's Deal, ensuring that you indulge during your culinary education.
Address: Norscot Manor Recreation Centre, 16b Penguin Drive, Norscot, Fourways
Opening times: Wednesday – Friday, 6:00 pm – 9:00 pm; Saturday – Sunday, 10:00 am – 3:00 pm, Monday and Tuesday, Closed or arrange for special appointments
Contact: 060 645 1164
3. Night of 1000 Drawings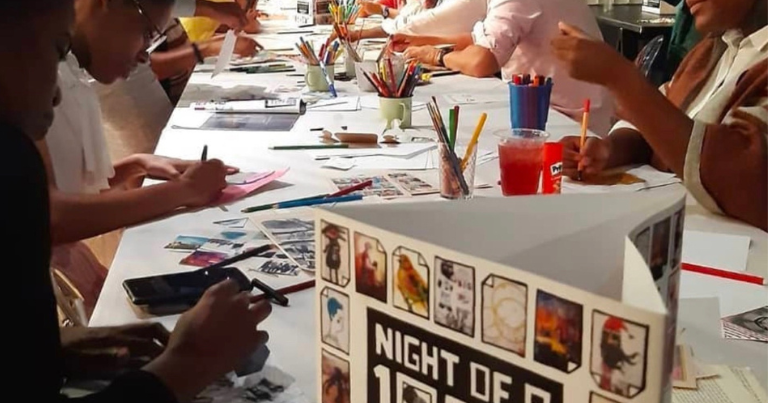 Discover the joy of creativity at Night of 1000 Drawings, Johannesburg.
The Doodle Sessions presented by Amex bring a creative flare to doing something fun at night. During the sessions, individuals can doodle or expertly craft artwork for a good cause.
All levels are welcome, and your art sales will support underprivileged youth in South Africa. Art can be their chance for a better education. After months of drawing and painting, all the public art is exhibited in the city, where you can buy unique pieces for just R150. Be a part of making art with a purpose. In 2019, we raised R150,000 for non-profit partners supporting South African youth.
Address: Atrium Keyes Art Mile, 19 Keys Avenue, Rosebank, Johannesburg
Opening times: First Thursday of every month, 6:00 pm – 9:00 pm
Contact: info@thursdaysprojects.co.za
4. The Market Theatre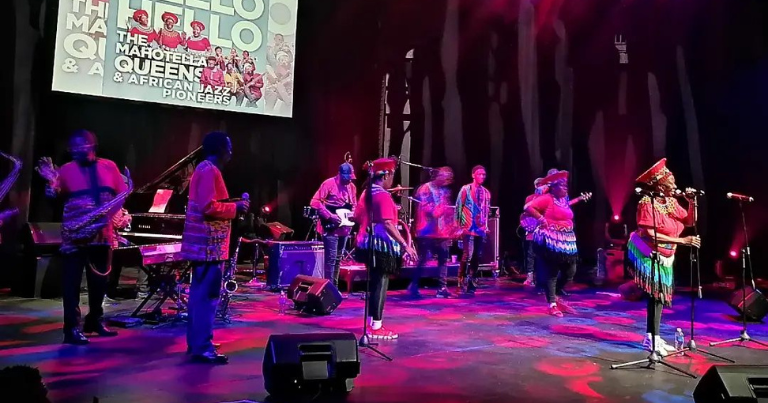 Newly built in Newtown, Johannesburg, lies The Market Theatre, bringing a dynamic cultural experience.
Its award-winning architecture includes the incredibly designed Market Square, hosting the Market Theatre Laboratory and Market Photo Workshop for students.
Those with a keen interest in art can dive into the market theatre's rich history and exciting productions behind the scenes.
The Market Theatre Foundation's vision is to provide the highest artistic excellence while nurturing an inclusive community of artists, audiences, and technicians. Their mission focuses on developing local talent, authentic performances, and engaging the city of Johannesburg through the arts. With strong values rooted in South African identity, artistic independence, and social responsibility, The Market Theatre is a great place to visit for cultural enhancement.
Address: 136 Lilian Ngoyi Street, Newtown, Johannesburg
Opening times: Times vary depending on What's On
Contact: 011 832 1641
Also read: The Ultimate 50 Best Things To Do In Johannesburg
5. Spaza Art Gallery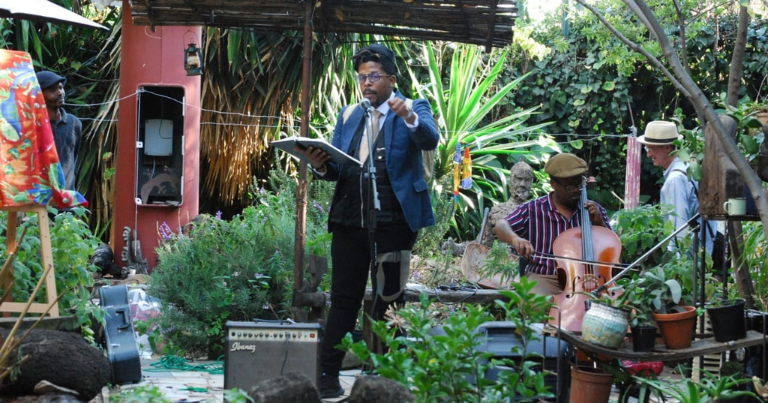 The Spaza Art Gallery in Johannesburg was founded in 2001 by artist Andrew Lindsay. Lindsay's experiences working in communities and rural areas led him to create a space for young, ambitious artists to showcase their work in the city of gold.
The gallery has since grown, attracting various artists and patrons, becoming a vibrant part of Johannesburg's art scene.
In addition to art exhibitions, the gallery hosts dynamic poetry sessions, live music events, and Sunday lunches. In 2015, the art gallery transformed into a "spaza" gallery, relocating its artworks to a shack in the garden and turning the original space into an Airbnb.
Lindsay's home and sculpture garden features unique installations like a mobile phone signal tower embellished with plastic bottles. The garden's corner houses a small gallery offering affordable art on matchboxes, tea towels, and aprons. Visiting this art gallery is sure to leave an imprint.
Address: 19 Wilhelmina St, Troyeville, Johannesburg
Opening times: Monday – Friday, 9:00 am – 6:00 pm; Saturday, 11:00 am – 4:00 pm; Sunday, Closed
Contact: 082 494 3275
6. Afronova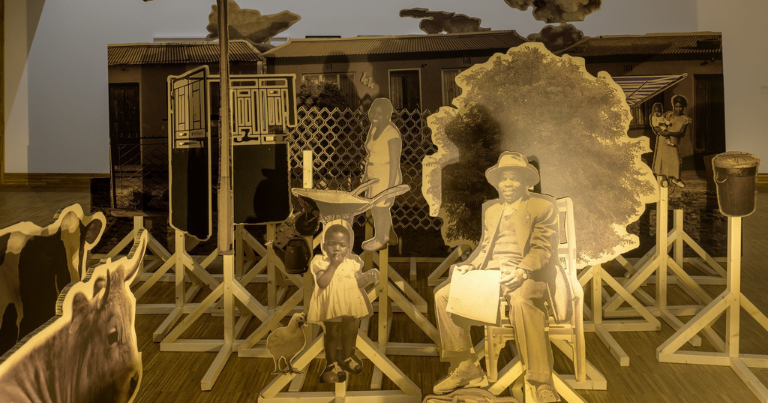 Established in 2005, Afronova Gallery in Johannesburg, founded by Émilie Demon and Henri Vergon, fosters innovation and genuine creativity.
For 18 years, they've networked with artists from the African continent and the world. In 2012, the gallery's intimate showroom emerged, displaying artists and their various connections.
Beyond the business bottom line, Afronova prioritises uniqueness, standing apart in art. Collaborations through Afronova have reached global heights. From Milan's Padiglione d'Arte Contemporanea to New York's Studio Museum, their innovation has attracted some of the world's most talented artists.
Address: 2132 Saxonwold, Johannesburg
Opening times: Visit the gallery by appointment only
Contact: 083 292 7589
7. Joburg Theatre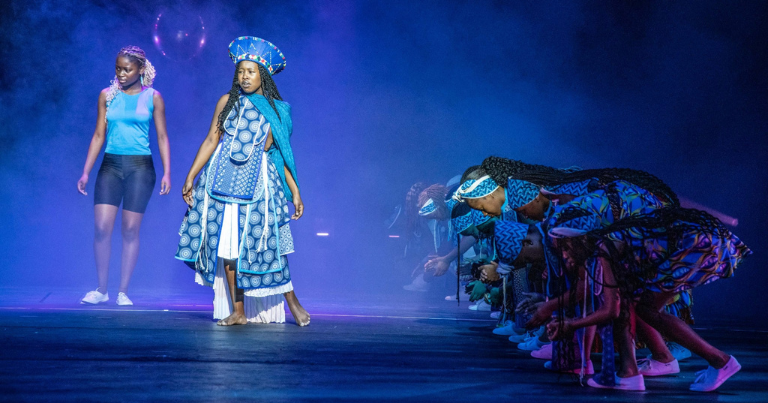 Joburg Theatre is situated in Braamfontein, Johannesburg. Initially built by the city council in 1962, it underwent an incredible makeover in 1987, transforming it into one of the most technically advanced theatres in the southern hemisphere.
Facing challenges in 2000, the city council turned it into a Municipal Entity, appointing Bernard Jay as the CEO. In 2023, Godfrey Katsana became the chairman of the Board of Directors.
Rebranded as Joburg Theatre in 2009, it has flourished under a new corporate policy. The Nelson Mandela Theatre, its largest auditorium, frequently captures audiences over 75% capacity annually.
Shows like West Side Story, The Magic Flute, and The Colour Purple have become significant hits over recent years.
Address: 163 Civic Blvd, Braamfontein, Johannesburg
Opening times: Times vary depending on showcases
Contact: 011 877 6800
8. Copper Bar | Bryanston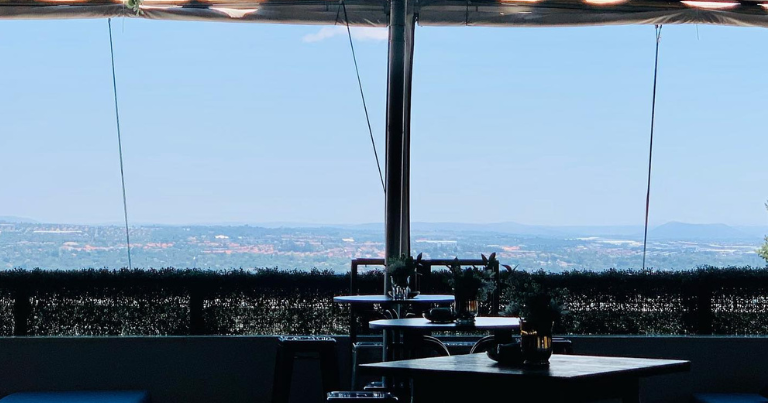 Copper Bar, in Johannesburg, is an exclusive rooftop venue in Bryanston. Founded by Anthea Knowles, it embraces the enchantment of an open-air experience with friends, enjoying drinks and music while the sun sets behind the majestic Johannesburg skyline.
The outdoor terrace offers a stylish garden setting with stunning panoramic views.
The venue is open to the public on Thursday and Friday evenings, offering a vibrant atmosphere with live DJs, great drinks and tasty bites.
It can host up to 150 people for private events, making it an ideal choice for an unforgettable rooftop function.
Address: Corner Main Office Park, 2 Payne Rd, Bryanston, Sandton, Johannesburg
Opening times: Thursday – Friday, 4:30 pm – 11:00 pm; Monday – Wednesday & Saturday, Sunday, Closed
Contact: Contact Copper Bar on the website
9. The Fox Event Venue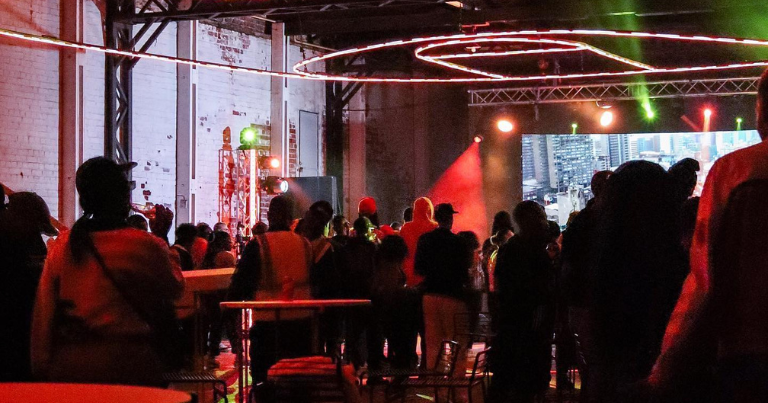 Discover The Fox Event Venue in Johannesburg – a vibrant urban playground. This Jozi gem offers an industrial chic setting perfect for diverse events.
The modern rustic warehouse space awaits, oozing industrial charm, setting it apart.
From conferences, fashion shows, banquets, and more, you can enjoy a plethora of events at The Fox. Be on the lookout for events hosted at the venue. It's sure to be unforgettable.
Address: 14 Alexander St, Ferreiras Dorp, Johannesburg
Opening times: Thursday – Saturday, 9:00 am – 5:00 pm; Monday – Wednesday & Sunday, Closed
Contact: 082 700 3233
10. 44 Stanley, Braamfontein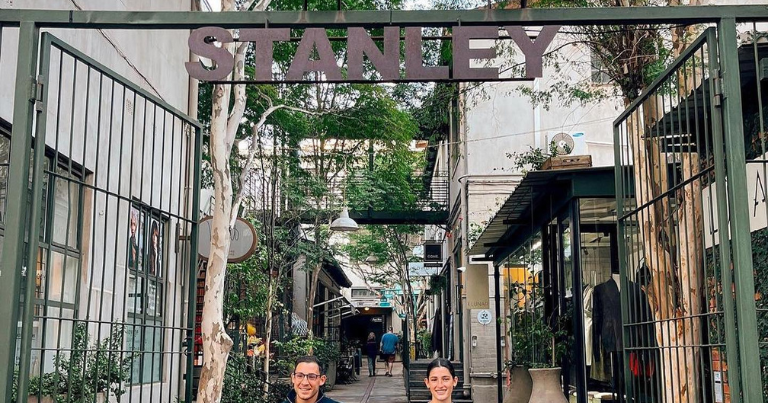 Discover 44 Stanley in Johannesburg for a great night out. Blending urban style with old-world elegance, it features a variety of unique stores and independent eateries.
It makes for an authentic atmosphere. The precinct's charm lies in its hidden arcades and green courtyards. The industrial space delivers a unique charm, making it a one-of-a-kind area in Johannesburg.
Alongside regular events like Celebrate at Stanley, First Thursdays, and film festivals, 44 Stanley offers a vibrant and enriching experience for locals and visitors alike.
Address: 44 Stanley Ave, Braamfontein Werf, Johannesburg
Opening times: Monday – Sunday, 9:00 am – 5:00 pm (Times vary during First Thursdays of the new month)
Contact: 061 583 0184
Also read: