If you're looking for exciting adventures and beautiful sights, there are plenty of things to do in the Western Cape.
This historic province boasts a remarkable natural diversity with more plant species than the entire United Kingdom. The famous Cape of Good Hope is a must-visit, offering breathtaking ocean views.
The Western Cape's deep-rooted wine heritage adds a unique charm to the region. Whether you're a nature lover, a history enthusiast, or just seeking a memorable experience, the Western Cape has something special to offer everyone. Explore its wonders and make lasting memories in this incredible part of South Africa. Before we dive in, you should also check out the top things to do in Morocco.
Also read:
Explore Cape Town's majestic beauty from the skies with Square1 Paragliding's tandem paragliding experience.
Arrive 15-20 minutes early to prevent any unnecessary delays. Before long, you'll be soaring through the heavens, capturing memories to cherish forever. Feel the freedom as you glide above pristine beaches and stunning mountains. Safety is paramount, and Square1 Paragliding's dedicated team ensures your comfort. All are welcome, whether you're 14 or 70, with weight limits ranging from 25kg to 120kg.
Weather permitting, you'll experience the adventure of a lifetime. Keep in mind paragliding is weather-sensitive, so rescheduling may be necessary. Dress comfortably, but pack something warm, just in case. Make Square1 Paragliding your first Cape Town adventure, and let the sky become your playground.
Opening hours: Monday – Sunday, 7:00 am – 6:00 pm
Address: 1 Signal Hill Rd, Signal Hill, Cape Town
Contact: 084 361 7279
2. Heli-biking in Jonkershoek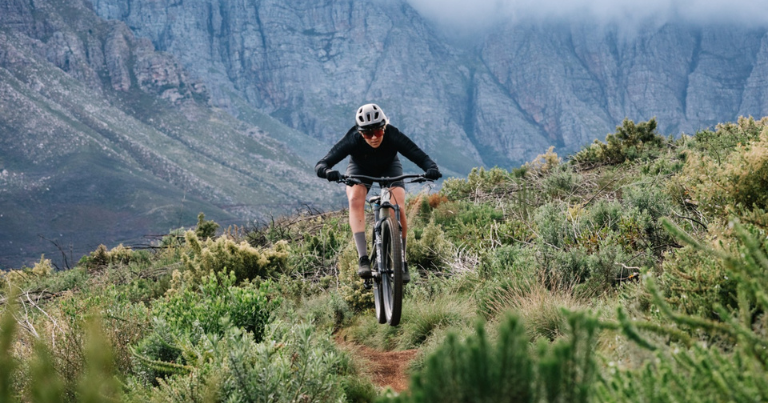 Embark on the ultimate adventure with Cape Town Helicopters. The new chopper, equipped for mountain biking, takes thrill-seekers to Jonkershoek's epic trails. Kyle Gifford, an ex-pro biker and Eco-Tourism head at MTO Trails Jonkershoek, will be your guide.
MTO Trails Jonkershoek boasts 18 diverse trails, from beginner to expert. You'll encounter smooth paths, technical challenges, jumps, and embankments. There's a trail for bike riders of every skill level.
Marvel at Jonkershoek's stunning mountainous views during this heli-biking escapade. Pick from half-day and full-day trips, even overnight options. Bike hire is included, but it's wise to bring your gear.
If you are a seasoned mountain biker, you know the Hottentots Holland mountains in Stellenbosch well, with MTO Trails offering 48 km of single tracks and 74 km of jeep tracks.
Opening hours: Monday – Sunday, 7:00 am – 6:00 pm
Address: Jonkershoek Rd, Stellenbosch
Contact: 082 688 7783
3. Cape Point Hiking Trails
Cape Point beckons adventurers and nature enthusiasts with its mesmerising trails at the southernmost tip of the African continent.
Cape Point has many hiking trails for adventurers to seek and explore.
The Cape of Good Hope Trail stands tall among them, offering breathtaking views over Diaz Beach. The Lighthouse Keeper's Trail winds beneath the iconic Cape Point lighthouse, unveiling historical bunkers and sublime fynbos. Gifkommetjie Trail captivates with its unspoiled shoreline, while Shipwreck Trail delves into Cape Point's maritime history, revealing intriguing shipwrecks.
For those seeking a longer journey, Phyllisia Circuit's panoramic views parallel the coastline offers tranquillity away from the crowds.
If you get the chance, take advantage of the Kanonkop Trail, named after an old cannon boasting sweeping vistas of False Bay and Buffels Bay Beach. Whether you're a seasoned hiker or new to the trail, Cape Point's hiking adventures promise a thrilling escape into nature's beauty.
Opening hours: Monday – Sunday, 7:00 am – 5:00 pm
Address: Cape Peninsula, Simon's Town
Contact: 021 780 9010
4. Wonderdal at Hazendal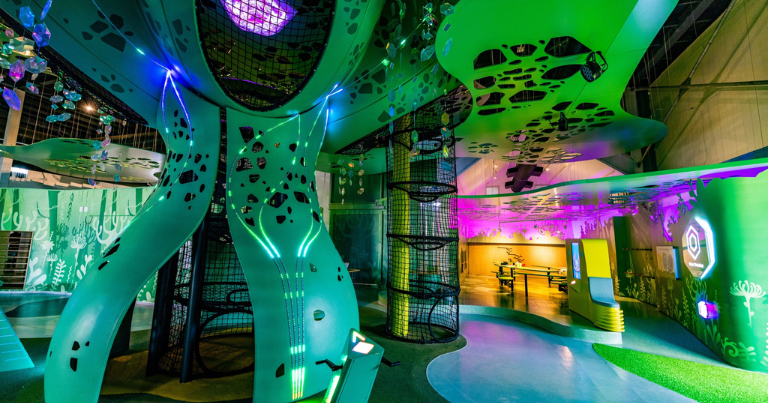 Wonderdal at Hazendal in Stellenbosch is a fantastic place where parents and kids aged 5-13 can learn and have fun.
With Amuki characters as their guides and friendly WonderPals to supervise, children can explore science, nutrition, and nature in exciting indoor and outdoor areas. While kids have a blast at Wonderdal, parents can enjoy Hazendal's beautiful estate.
When it's time to eat, Hazendal has something for everyone. You can dine at Babushka Deli, picnic on the lawns, or visit the Beer Garden. Wine enthusiasts can explore the Wine Tasting Lounge or the Wine Library. Remember to book ahead, especially on weekends.
Nature lovers can stroll through wetlands with bamboo walkways or visit the Harvest Garden. Art enthusiasts will appreciate the Marvol Gallery's unique collection. And for car buffs, the Classic Car showcase is an unmissable experience.
Opening hours: Tuesday – Wednesday and Friday – Sunday, 9:00 am – 5:00 pm; Monday and Thursday, Closed
Address: 60 Bottelary Road c/o Kruis and, Ronelle St, Stellenbosch
Contact: 021 205 5624
5. Elgin Railway Market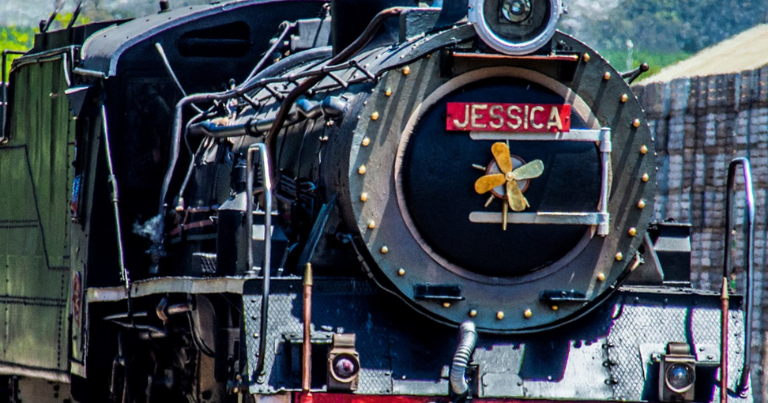 Climb aboard the thrilling 160 km journey with Ceres Rail Company every weekend from Cape Town—a voyage towards the captivating Elgin Railway Market, a marvel of Art Deco.
The journey starts at 8:30 am from the Harbour Bridge Platform near the Convention Centre, passing through Cape Town's charm and travelling to the majestic Sir Lowrys Pass.
Over the peak, the train navigates the picturesque Elgin Valley, arriving at the market. Experience scenic beauty from diverse seats, savouring drinks from the licensed bar or dining car. For all ages, an unforgettable outing awaits. Kids under 2 travel free. The round-trip ticket includes the journey—no private food but a stocked bar and dining car aboard. Limited wheelchair access is available. No smoking, closed shoes.
Bring a light jacket. Adhere to train protocol. Respect the train, and avoid risks. Enjoy the views, but stay safe.
Opening hours: Rides must be booked (Ride outing length: 8:00 am – 6:00 pm to 7:00 pm)
Address: Oak Ave, Elgin, Cape Town
Contact: 079 401 9353
6. Century City Tram Rides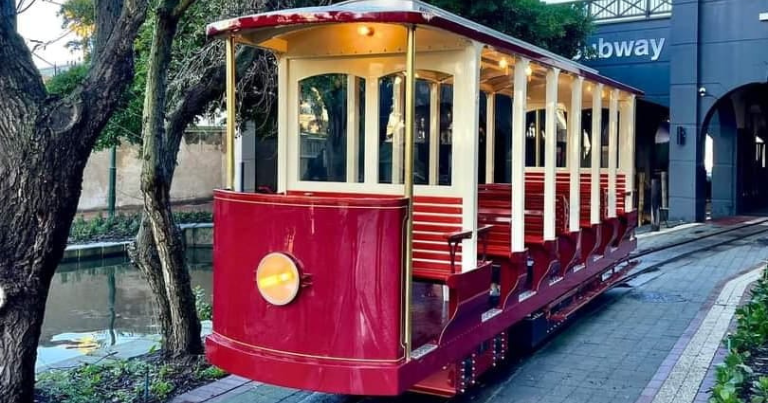 Step into the past with the Century City Tramway in Cape Town. Opened on July 1, 2023, this 1920s-inspired tram offers an exciting ride through the area of Century City.
Designed and crafted by Keyser Locomotive Works, the tram glides along the old Ratanga Junction Railway line, giving you a picturesque journey. Begin your adventure at Ratanga Park, although the start might vary based on local events.
The tram operates weekends and holidays, from 11:00 to 17:00, departing every half hour until 16:30. With no need to book ahead, purchase your tickets on the platform.
Opening hours: Saturday – Sunday, 11:00 am – 5:00 pm; Monday – Friday, Closed
Address: 4 Conference Ln, Century City, Cape Town,
Contact: 062 206 1906
7. Wine Tasting and Cellar Tours in Babylonstoren
At Babylonstoren, wine tasting is a journey through the wine farm's rich history. The Tasting Room, overlooking the majestic Paarl landscape, invites you to explore a diverse selection of wines.
Each sip will surely be something special, from the crisp Candide White Blend to the bold Babylonstoren Nebukadnesar.
Pair your wine with delectable options like winemaker's platters, deli feasts, or vegan delights. Give your palate a reason to dance. And for those seeking more, the cellar tours beckon. Journey from vineyard to cellar, where ancient traditions meet modern innovation.
Witness clay pots, fermenters, and concrete eggs at work. The tour culminates in a master tasting complemented by farm-grown delicacies.
Experience wine in its purest form at Babylonstoren, an award-winning destination where every glass tells a story.
Opening hours: Monday – Sunday, 9:00 am – 5:00 pm
Address: 5WFF+GP, Klapmuts – Simondium Rd, Simondium, Paarl
Contact: 021 863 3852
8. Eagle Encounters at Spier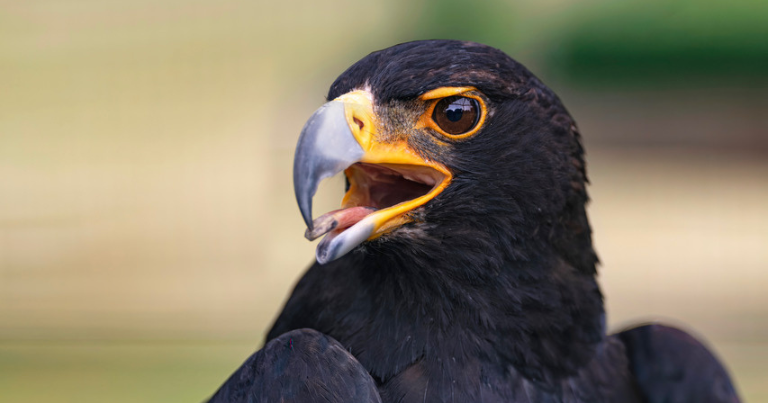 Established in 2001, Eagle Encounters thrives within the serene embrace of Spier Wine Farm in Stellenbosch.
This sanctuary blends rehabilitation, conservation, education, and eco-tourism initiatives. As a self-funded Non-Profit Organization, Eagle Encounters embodies a heartfelt commitment to preserving South Africa's birds of prey for generations.
Hank Chalmers' lifelong passion for these majestic beasts began in his youth, a legacy from his father, one of South Africa's earliest falconers. Today, Hank brings a hands-on approach to rehabilitation and conservation.
Eagle Encounters is a beloved destination that families, schools, and visitors can enjoy. Not a conventional zoo, these feathered residents enjoy open enclosures, enabling guests to interact closely with birds, from incredible eagles to endearing owls and even the friendly Bearded Dragon.
Opening hours: Monday – Sunday, 9:30 am – 5:00 pm
Address: Spier Wine Farm, R310 Baden Powell Drive, Lynedoch, Stellenbosch
Contact: 084 037 5523
9. Sky-Hi Ride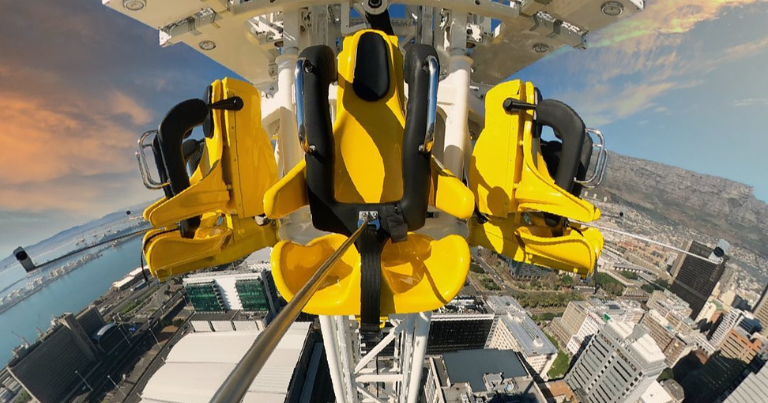 Get ready for an urban adventure like no other! The Sky-Hi Ride is a heart-pounding, gravity-defying experience that will leave you breathless. Plummet from the 28th floor of Hotel Sky, soaring 35 meters above Cape Town's city bowl at speeds reaching a jaw-dropping 100km per hour. Simply a thrill-seeker's dream.
This adrenaline-pumping ride offers a bird's-eye view of Cape Town. There are only three rides like this worldwide, and it is coincidently the first in Africa. After your wild ride, stop by the Sky-Hi Boutique to snag your action-packed video and some fantastic merchandise.
Remember, the Sky-Hi Ride depends on the weather, so check the forecast before you go. Sky-Hi operates from 12:00 pm to 8:00 pm, Wednesday to Sunday. The expansive deck below is perfect for celebrations, birthdays, corporate events, and private parties.
Please note this ride has age, height, and health restrictions, so check them carefully before booking.
Opening hours: Tuesday – Sunday, 12:00 pm – 8:00 pm; Monday, Closed
Address: 28th Floor, Hotel Sky, 9 Lower Long St, Cape Town City Centre, Cape Town
Contact: 021 879 5040
10. Spice Route Destination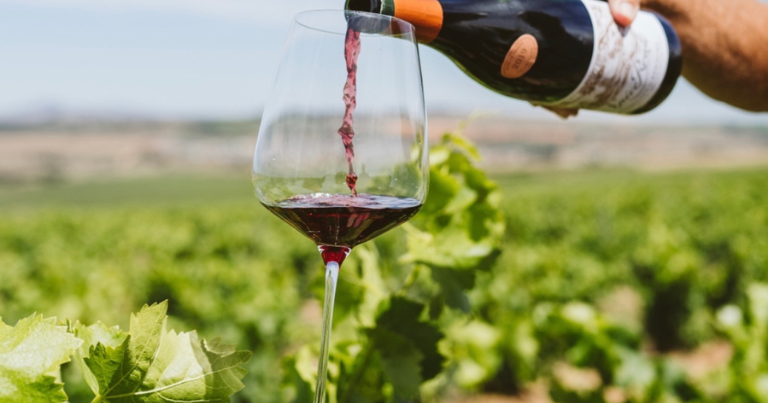 The Spice Route in Paarl takes you on a voyage through time. Dating back to 1693, this farm has a rich heritage. It traces its roots to the mariners of the 15th century who braved the seas on the famed Spice Route to trade Eastern spices in Europe. The modern Spice Route Destination invites you to explore its diverse offerings.
For food enthusiasts, three distinctive restaurants await. Jewell's Farm Bistro serves farm-to-table cuisine, La Grapperia delights with wood-fired pizzas and German-Italian fare, and Ristorante Pasta Pasta offers authentic Italian breakfast and lunch.
Taste your way through four venues, sampling Spice Route Wines, Jewell's Charcuterie, CBC premium beer, Wilderer Spirits, and De Villiers chocolate.
Thrill-seekers can embark on Paarl Adventures with activities like abseiling, E-bike tours, and horse riding. Grab the Spice Route Passport to savour it all, offering artisanal tastings of wines, charcuterie, beers, spirits, and chocolates.
Opening hours: Monday – Sunday, 9:00 am – 5:00 pm
Address: Suid-Agter-Paarl Rd, Southern Paarl, Paarl
Contact: 021 863 5200
Also read: