Discover a world of captivating experiences with the numerous things to do in Graaff-Reinet, the gem of the Karoo.
This charming South African town boasts 220 national monuments, offering a glimpse into its incredible history and cultural heritage. As the fourth oldest town in the country, Graaff-Reinet provides a unique blend of historical significance and natural tranquillity.
From exploring its well-preserved architecture to immersing yourself in the local culture, there's something for everyone to enjoy in this enchanting destination.
Also read: 10 Top Resorts in Port Elizabeth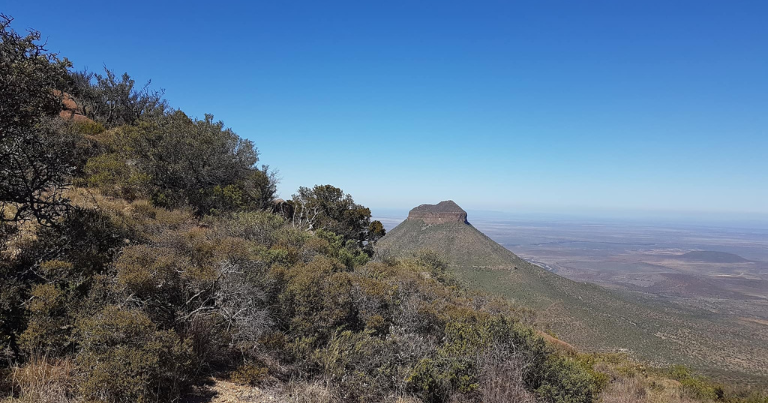 Nestled just off the heart of Graaf-Reinet, Camdeboo National Park offers awe-inspiring landscapes and rich adventures.
Gaze upon towering mountainous columns that rise above the Karoo plains, a testament to 200 million years of volcanic forces.
Journey to its peak along an asphalt road while incredible views. Nature enthusiasts can enjoy many activities, including hikes, biking, game viewing, and bird watching.
Nqweba Dam beckons for watersports aficionados and anglers. Picnicking is a delight at numerous spots across the park. Wildlife abounds, which include buffalo, zebra, and more.
Opening hours: Monday – Sunday, 6:30 am – 7:30 pm
Address: 20 N9, Graaff-Reinet
Contact: 049 892 3453
2. Valley of Desolation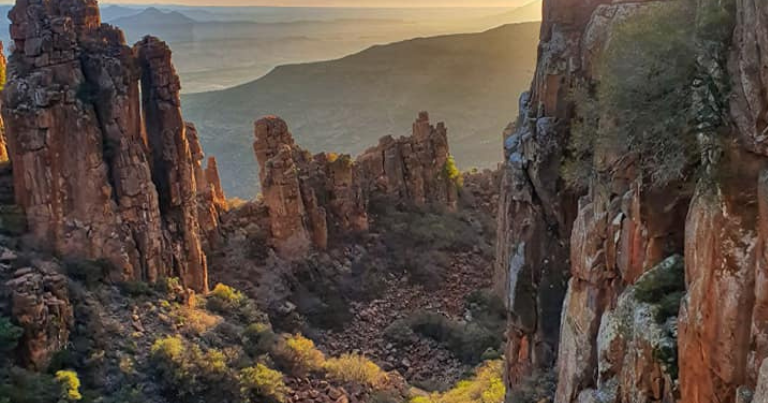 Discover the Valley of Desolation, where towering dolerite cliffs and balanced columns reach an impressive 120 metres above the valley floor. Witness this natural wonder against the timeless backdrop of Camdeboo's vast plains.
It's a true treasure crafted by volcanic and erosive forces over 100 million years.
Only 14 km from Graaff-Reinet town centre, this stunning site sits within the Camdeboo National Park.
The Valley of Desolation is part of the national school curriculum. And schools around Graaff-Reinet often take the time to experience this natural marvel.
Opening hours: Monday – Sunday, 6:30 am – 7:30 pm
Address: Graaff-Reinet
Contact: 049 892 3453
3. Graaff-Reinet Museum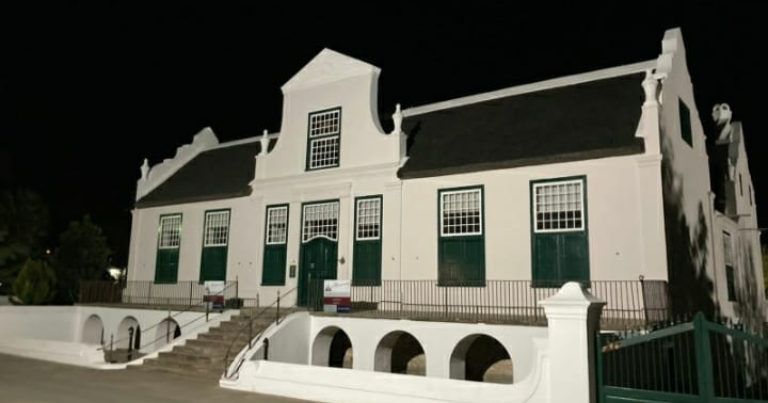 The Graaff-Reinet Museum, affectionately known as the Reinet House, was built in 1812 by the South African government.
It served as a parsonage, hosting clergy members until 1822. Reverend Andrew Murray, from Scotland, lived in the house from 1822, followed by his son Charles.
After it had been converted to a girls' boarding school, Miss Helen Murray, sister of Rev. Charles Murray, named it Reinet House in 1906. Later, it housed Training College students.
In 1952, restoration began under architect Mr Norman Eaton. In 1956, Governor General E. G. Jansen opened the museum. An hourglass atop the gable symbolises fleeting time. A 1980 fire damaged part of it, but restoration revived the period furniture and relics collection.
Opening hours: Monday – Friday, 9:00 am – 3:00 pm; Saturday – Sunday, 9:00 am – 12:00 pm
Address: 1 Murray Street, Graaff-Reinet
Contact: 049 892 3801
4. The War Memorial
A memorial was constructed to remember brave Graaff-Reinet men lost in the first World War.
The Mayor, Mr H Urquhart, called a meeting 3 months post-war, deciding on a prominent site to create the memorial, the Mayor's Garden.
The chosen spot, facing the Graaff- Reinet Town Hall, saw generous donations stream to fund the monument. On November 7, 1923, H.R.H. Prince Arthur of Connaught unveiled the grand bronze Victory Peace Angel statue. Positioned on a prominent pedestal, the angel stands as a symbol of triumph and solace. This memorial, rooted in history, echoes gratitude for sacrifice.
Opening hours: Monday – Sunday, All hours
Address: 12 Church Square, Graaff-Reinet
Contact: 049 892 4248
5. Old Library Museum, Graaff-Reinet
The Old Library Museum in Graaff-Reinet is steeped in history. In 1847, the town population banded together to create this library on Church Street, initially facing financial struggles.
By 1878, they expanded it with a southern wing, and in 1926, the northern branch sprouted where an old reservoir stood. This library was the town's cultural hub until 1981, when a modern one was born on Parsonage Street. The municipality subsequently gifted the old building to the Graaff-Reinet Museum.
Thanks to the National Lottery Distribution fund in 2005, the museum's trustees transformed the space, adding conference facilities and exhibition areas. Now, it proudly showcases the history of Graaff-Reinet's previously disadvantaged community, a testament to the town's enduring legacy and its progression.
Opening hours: Monday – Thursday, 8:00 am – 1:00 pm and 2:00 pm – 4:30 pm; Friday, 8:00 am – 1:00 pm and 2:00 pm – 4:00 pm; Saturday – Sunday, 9:00 am – 1:00 pm
Address: Somerset Street, Graaff-Reinet
Contact: 049 892 3801
6. Afrikanis Rum Tasting Room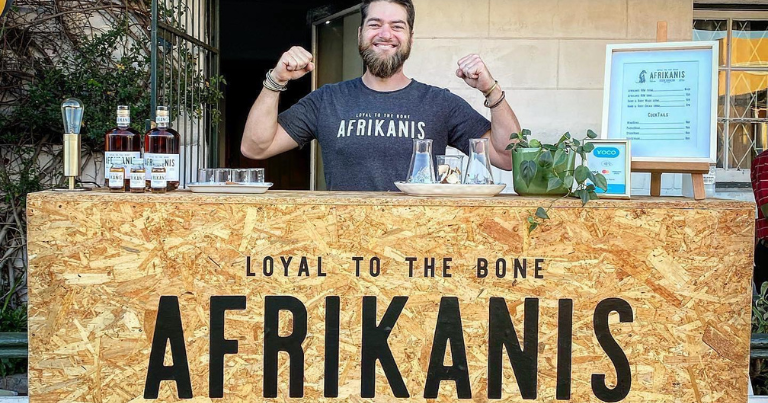 This place is all about the good vibes and great rum. The room is filled with Afrikanis treasures – not just their fantastic rum but also unique hand creams, fragrant soaps, and exciting shirts, all exuding the Afrikanis charm.
The de Wets, the minds behind Afrikanis, embarked on a thrilling African journey. They birthed the essence of the continent in their rum, loaded with eight fabulous botanicals.
You're in for a wild ride with spicy and fruity flavours dancing on your taste buds, plus a dash of charcoaled dry oak, thanks to those botanicals and the fancy bourbon casks where the magic happens.
Opening hours: Monday – Saturday, 10:00 am – 9:00 pm; Sunday – Closed
Address: 52 Somerset Street, Graaff-Reinet
Contact: 083 538 2865
7.  Jan Rupert Art Centre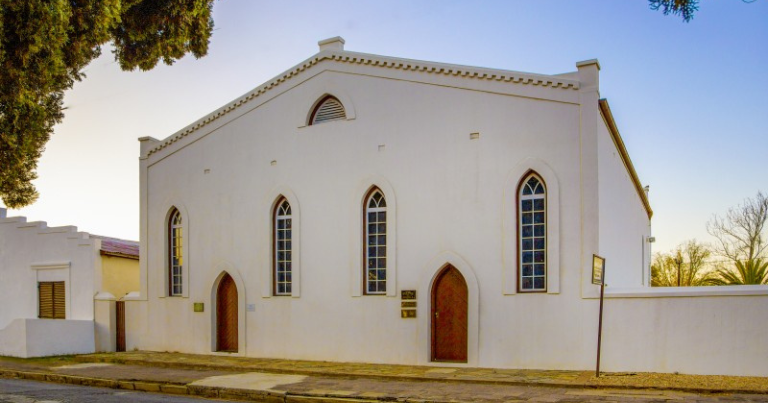 Nestled on Middle Street in the heart of Graaff-Reinet, the Jan Rupert Art Centre boasts a rich history.
In 1975, it became a national monument. This haven for art enthusiasts, distinct from the Hester Rupert Art Gallery, where art resides, hosts captivating temporary exhibitions, all thanks to the Rupert Art Foundation.
The gallery initially sheltered the Manatees, a Sotho tribe seeking refuge from the north in the 1820s. By 1870, it underwent enhancements, showcasing its timeless charm.
As time passed, the congregation dwindled, and the structure served as a storehouse, losing its former glory. However, Dr Anton Rupert's intervention breathed new life into the building. In 1986, it was formally entrusted to the Save Reinet Foundation, a tribute to Jan Rupert, Dr Rupert's late brother, preserving its legacy as a captivating hub for artistic expression.
Opening hours: Monday – Friday, 9:00 am – 12:30 pm and 2:00 pm – 5:00 pm; Saturday – Sunday, 9:00 am – 12:00 pm
Address: Middle St, Graaff-Reinet
Contact: 049 892 6107
8. Lot 44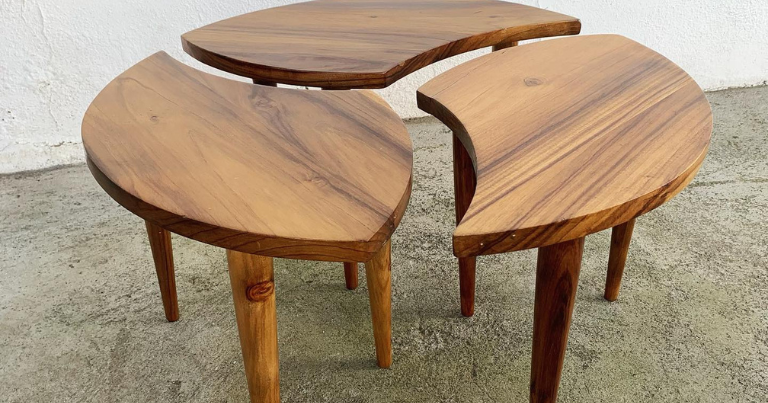 Lot 44 is a gem like no other. Enter, and you'll find a treasure trove of second-hand delights.
Imagine art decor, 20th-century, vintage, and retro furniture, all beautifully restored. There are also unique trinkets, fascinating lamps, and cosy locally crafted woollen goods, perfect for gifting. The brass accents gleam with the sunlight's reflection, while the wood pieces are sanded and varnished to reach peak condition. They have been lovingly restored, featuring a simple design.
Lot 44 is a one-of-a-kind second-hand store where every item has a story waiting to be told.
Opening hours: Monday – Wednesday and Friday, 9:00 am – 4:00 pm; Saturday, 9:00 am – 2:00 pm; Thursday and Sunday, Closed
Address: 44 Somerset St, Graaff-Reinet
Contact: 072 033 6618
9. The Brewery and Two Goats Deli (41 minutes from Graaff-Reinet)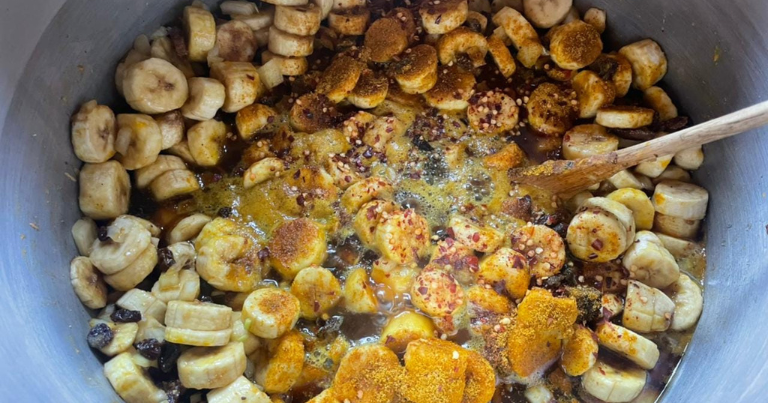 Discover the charm of Nieu Bethesda at The Sneeuberg Brewery & Two Goats Deli.
Nestled in the quaint village of Nieu Bethesda, it draws locals and travellers alike. Meet André Cilliers, the master behind artisanal cheeses, craft beers, and savoury game salami—delight in goat's and cow's milk cheeses, homemade breads, and hand-roasted coffee.
Plan a delightful outing with delectable picnic baskets or relish cheese platters and fresh salads on sunny days. As temperatures drop, enjoy hearty soups and stews alongside these platters. While evenings invite you to the pub, the kitchen takes its rest. Quench your thirst with beer and a selection of wines.
Opening hours: Monday – Sunday, 8:00 am – 5:00 pm
Address: Pienaar St, Nieu-Bethesda
Contact: 081 015 7996
10. Obesa Nursery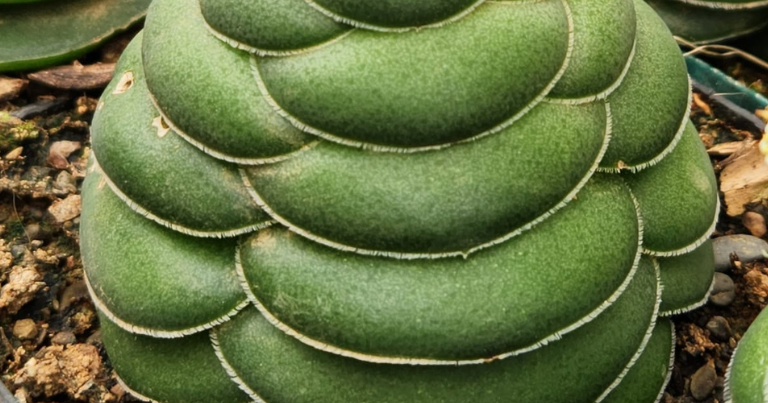 Obesa Nursery in Graaff-Reinet began as a simple hobby and has flourished into one of the world's largest privately owned sanctuaries for cacti and succulents.
Spread across 10 hectares of land, this nursery thrives in the Karoo's nurturing climate, mirroring their native habitats. With over 7 000 plant species and the annual cultivation of 350,000 plants, the nursery's stockpile surpasses 2 million. On the 7-hectare estate, 5 500 species are safely housed, including rare and protected treasures, showcased for viewing but not for sale. Approximately 80% of the botanical gems are available for purchase, while the remainder serves vital conservation and propagation roles.
Their diverse range spans caudiciforms, bulbs, miniature and full-grown cacti, African and Madagascan aloes, robust trees, and an array of global succulents like Apocynaceae, Asclepiadaceae, Mesembryanthemaceae (Vygies), Yuccas, Dasylerions, Beaucarneas, Agaves, and select medicinal plants.
Opening hours: Monday – Friday, 7:00 am – 12:00 pm; Saturday – Sunday, Closed
Address: 49 Murray St, Graaff-Reinet,
Contact: 082 464 8202
Also read: