White River lies between Mbombela and Hazyview and offers an enjoyable day trip. It features a friendly community of artists and farmers and connects you to breathtaking surrounding attractions. The high level of Kaolin deposits gives the river that skirts the town its name. Read on about the 15 ultimate things to do in White River.
ALSO READ: The 25 Best Things to do in Mpumalanga
Planning to visit White River? Check out the pages below:
Top 6 Things to Do in White River and the Surrounding Areas
1. Oliver's Restaurant, Lodge and Wellness
Discover a hidden gem on the White River Country Estate overlooking the White River Golf Course. Oliver's Restaurant, Lodge and Wellness offer hot breakfast, plush rooms, and suites with elegant bathrooms. Each unit also has a TV, minibar, and tea and coffee-making facilities. If you upgrade your quarters, you also get a fireplace, lounge, and an outdoor shower. A house and a cottage are also available. Oliver's Restaurant serves fine-dining cuisine and includes a terrace and a wine cellar. Other amenities at Oliver's are a spa and an outdoor pool.
Address: Oliver's Pine Lake Drive, White River Country Estate, White River
Contact: 013 750 0479
2. The Plantsman
Treat yourself to a wide variety of breakfast options, including Shakshuka & Spinach and Danish Feta Quiche. For lunch, try the Spicy Bean and chilli or the Haloumi Wrap. And, of course, no meal is complete without dessert! Enjoy Orange Blossom, Death by Chocolate, or Cream Cheese Carrot cake. The eatery is also the ideal venue to host your next get-together. They have a bakery on-site, a Rose Garden for events and The Bunny Burrow for baby showers. For the kids, there's The Tree House! So, while hunting for the best things to do in White River, don't miss out on what The Plantsman offers.
Opening times: The Plantsman is open on weekdays from 07h00 to 16h00 and at weekends and public holidays from 07h30 to 15h00.
Menu: The Plantsman Eatery Menu
Address: Portion 699 of the Farm White River
3. Elephant Whispers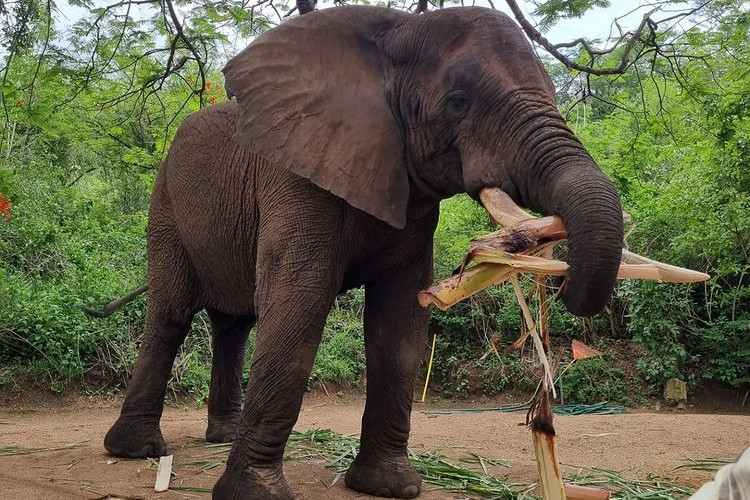 If you're looking for an enlightening and interactive experience with the most majestic creatures, look no further than Elephant Whispers. At this elephant centre in the nearby area of Hazyview, you'll have the chance to meet their five elephants and learn about their unique behaviour and physiology. You'll also see first-hand how the friendly team has built trust with these incredible animals. The staff at Elephant Whispers also work hard to translate visitors' life-changing moments with the elephants into an understanding of the need for long-term, sustainable wildlife conservation.
Opening times: Elephant Whispers is open daily from 08h00 to 16h00
Price: For adults, fees range from R550 to R4200, depending on your chosen activity. For kids, payments range from R275 to R1680.
Address: R40 Road (between the turn-offs for R 536 to Sabie and the R535 to Graskop), Hazyview
4. Chimp Eden
Does your search for things to do in White River include close encounters with wildlife? Then, visit Chimp Eden, located in the Umhloti Nature Reserve, a 2,500-acre preserve home to rescued chimpanzees. This Jane Goodall Institute chimpanzee sanctuary highlights the world of chimpanzees for humanity through education, eco-tourism, and public tours. The location is within the beautiful 1,000-hectare Umhloti Nature Reserve, 15 kilometres outside Mbombela. The preserve features chimps that have been displaced from their natural African habitats.
Tour times: 10h00, 12h00 and 14h00
Price: R255 per adult, R120 per child (6-12), R190 per pensioner, and children under 6 get a free pass.
Address: Turn Off 47, R40, Barberton Road, Mbombela
---
Also Read: Explore Johannesburg Zoo
---
5. Lone Creek Falls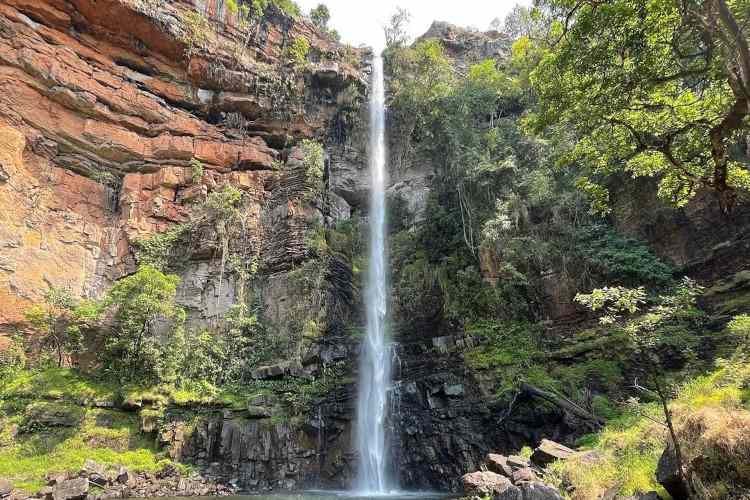 The Lone Creek Falls is a gorgeous natural landmark located near Sabie. The waterfall plunges 70 metres into the creek below, making it a sight to behold. Visitors can enjoy a lovely 60-meter walk through an indigenous forest to get to the base of the falls. The footpath can be slippery when wet, so please take caution. The path is also semi-wheelchair friendly, but some areas may require assistance. The picnic area surrounding the falls has lush lawns and magnificent shade trees, making it the perfect spot to relax and enjoy a meal. There are also braai and toilet facilities available for visitors.
Opening times: Daylight hours
Price: R30 per person (you can only pay with cash, and the price might be higher when you go)
Address: Click here for directions
---
Also Read: The 10 Best Restaurants in Fourways
---
6. Sabie Valley Coffee
Looking for the finest coffee in town while checking out things to do in White River? Look no further than Sabie Valley Coffee! Located in Casterbridge Lifestyle Centre, this cosy little café is the perfect location to sit back and enjoy a delicious cup of coffee. With beverages like Bushveld and Freezochino, it's the ideal spot for breakfast or lunch. And their quiches and pies are to die for! So if you're in the mood for good old-fashioned comfort food, swing by Sabie Valley Coffee. You won't be disappointed!
Opening times: Sabie Valley Coffee is open from 09h00 to 16h30, Saturdays from 09h00 to 15h00, and Sundays and public holidays from 09h00 to 14h00.
Menu: Sabie Valley Coffee Menu
Address: B1, Casterbridge Lifestyle Centre, White River
More Great Things to Do in White River and Surrounding Areas
7. Induna Adventures Hazyview
Are you looking for an outdoor adventure? Look no further than Induna Adventures! They are an all-around outdoor adventure company based in Hazyview, covering the whole of Mpumalanga. Induna Adventures offer quad biking, river rafting, geckoing, paintball, archery, zipline, team building and school camps. The company also forms part of the GZ Adventures Group, which offer game drives, panorama route tours, mountain biking and more. With impeccable safety standards and highly trained staff, Induna Adventures is a top choice when booking outdoor activities. Meals and snacks are also catered on-site, making this a one-stop facility catering to all your needs.
Operating times: Induna Adventures operates daily from 08h00 to 17h00.
Price: The cost of the various activities ranges from R150 to R950 per adult and from R300 to R600 per child.
Address: Sabie Road, R536, Hazyview
ALSO READ: Things to do in Hazyview
8. God's Window
Located in the Drakensberg Escarpment, God's Window provides visitors with a stunning view of the Blyde River Canyon. As one of the most popular spots on the Panorama Route, God's Window is a must-see for those searching for things to do in White River. Stretching out before you will be a vast forest that extends to the Kruger National Park. No wonder this spot is featured in the "edge of the earth" scene in The Gods Must Be Crazy!
Opening times: Daylight hours
Price: Adults pay R20, and pensioners and children pay R15.
Address: R543, Ehlanzeni
9. Sudwala Caves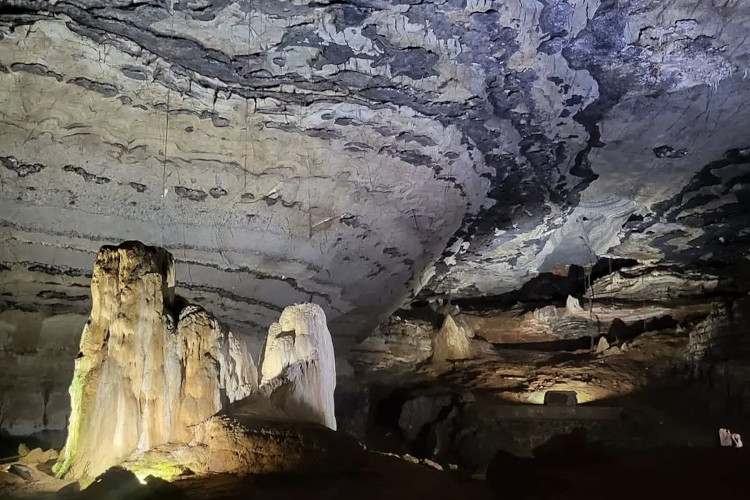 Did you know that these caves are one of the oldest known in the world? These fascinating caves are set in Precambrian dolomite rock, laid down 2800 million years ago! And the caves themselves are approximately 240 million years old. So if you want to discover something new and exciting, look beyond the Sudwala Caves. The paths inside are easy to navigate, thanks to well-lit settings and temperature control. There are tours every 15 minutes.
Opening times: The Sudwala Caves operate daily from 08h30 to 16h30 (this applies to public holidays too).
Price: R100 per adult, R80 per pensioner, R60 per child, and children under 4 get free entry. Zip-line tours cost R280 per person. The Crystal Tour costs R550.
Address: R539, Mbombela
10. Lowveld National Botanical Garden
South Africa features some of the world's most beautiful and diverse botanical gardens. One of these gardens, the Lowveld Botanical Garden, is home to one of the largest South African fig tree collections. The venue also features a spectacular manufactured African rainforest. This garden is a must-see for any nature lover or tree enthusiast looking for things to do in White River. So whether you're looking to escape the buzz of city life or learn more about the natural world, the Lowveld Botanical Garden will delight you.
Opening times: Lowveld National Botanical Garden is open daily. From September to March, the gardens are open from 08h00 to 18h00, and from April to August, they are available from 08h00 to 17h00.
Price: Adults pay R50, students pay R27, and children pay R15. Pensioners get free entry on Tuesdays.
Address: Emnotweni Avenue, Riverside park, Mbombela
11. Thokozani Lodge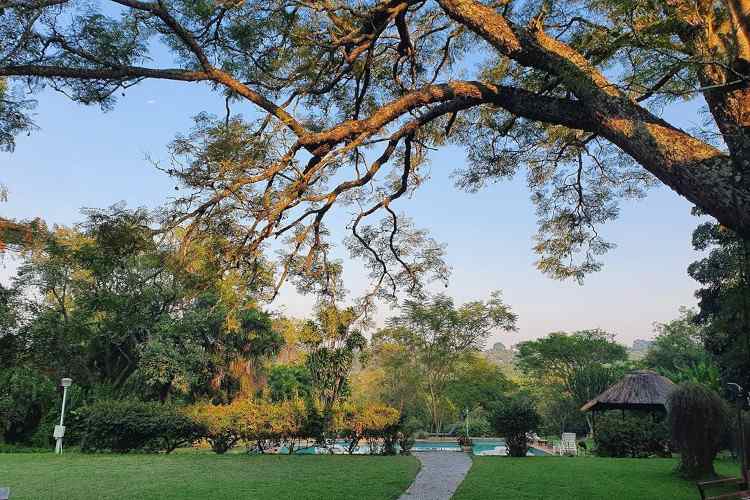 The Thokozani Lodge is a gem hidden in the heart of Africa. The venue, built in 1926, is situated on Jatinga street and is known for its crescent shape and thatched roof. The lodge has a rich history and has undergone numerous renovations, but it has retained its old charm. All the lodge rooms face west and have stunning views. The lodge also offers a variety of amenities, including air conditioning, Wi-Fi, an outdoor pool, and more. So if you're looking for a unique and unforgettable experience, check out the Thokozani Lodge!
Address: Jatinga Road, Holding 103, White River
Contact: 082 421 2392
12. Casterbridge Lifestyle Centre
Are you looking for a unique shopping experience, entertainment and dining options, or a place to stay while hunting for things to do in White River? Casterbridge Lifestyle Centre has something for everyone! Shop at one-of-a-kind boutiques, support local artists and artisans and enjoy a meal or refreshing drink in the beautiful gardens. With so much to discover, we guarantee you'll have a fantastic time!
Opening times: The Centre is open on weekdays from 09h00 to 16h30, Saturdays from 09h00 to 16h00, and Sundays and public holidays from 09h30 to 15h00.
Address: R40, White River
13. Casterbridge Hollow Boutique Hotel
Welcome to Casterbridge Hollow Boutique Hotel, your oasis in the heart of the bustling Casterbridge Lifestyle Centre. This contemporary hotel offers all the amenities you need for a relaxing stay, including a central courtyard, an outdoor pool, and a stylish restaurant and bar. Their modern rooms are Tuscan-inspired and feature flat-screen TVs, minibars, and private balconies with garden views. Casterbridge's suites are even more spacious and come complete with sleigh beds. Best of all, their convenient location is just a minute's walk from shopping and dining at the Casterbridge Lifestyle Centre and 14.5 km from Kruger Mpumalanga International Airport.
Address: Casterbridge Lifestyle Centre, R40, White River
14. Perry's Bridge Reptile Park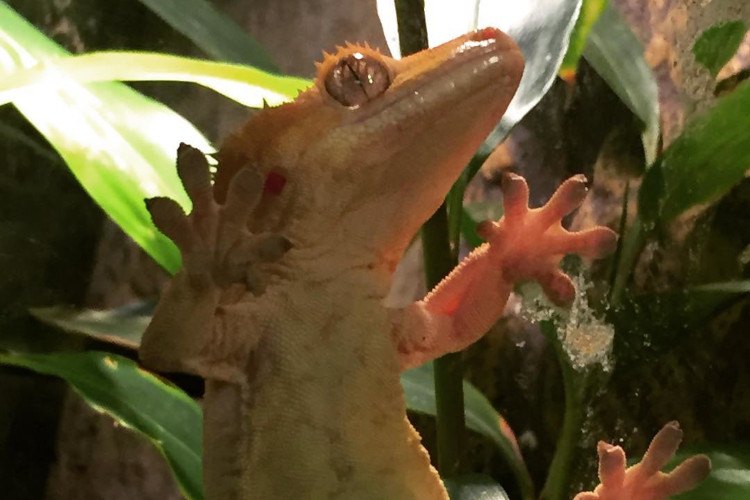 We're coming to the end of our guide to things to do in White River. Number 14 is for reptile lovers! Are you looking for a place to learn about reptiles and see some amazing creatures up close? Look no further than Perry's Bridge Reptile Park! This park boasts an extensive collection of indigenous and exotic reptiles, including crocodiles, snakes, tortoises, and lizards. On display, you'll also find some fascinating spiders, scorpions, and frogs. And make sure to attend the daily educational talks covering venomous snakes! You might even participate in an interactive chat with one of the constrictors. So what are you waiting for? Come on down to Perry's Bridge Reptile Park today!
15. Pine Lake Resort
If you're looking for a place to get away from it all and relax in nature, look no further than Pine Lake Resort. Surrounded by forests and situated on the banks of a beautiful lake, this resort is the perfect place to unwind and escape the hustle and bustle of everyday life. Pine Lake Resort offers a variety of chalets that are perfect for families or groups of friends. Each chalet has a kitchen, living/dining room, fireplace, and patio with BBQ facilities. And, of course, all of the chalets have stunning views of the lake. In addition to the chalets, Pine Lake Resort also offers a wide range of amenities and activities. Take a dip in the pool, relax in the spa, work up a sweat in the gym, play some tennis or volleyball, or go for a scenic canoe ride on the lake.
That wraps up our list of things to do in White River! Are you ready to explore what the town and surrounding areas offer?
Frequently Asked Questions
How did White River Get Its Name?
The town of White River in South Africa is aptly named after the river running through it. This striking river appears to have a milky hue due to the presence of kaolin – an alumino-silicate mineral derived from decomposed granite – in its catchment area.
Who founded White River?
At the end of the Anglo-Boar War, Lord Milner established a minor irrigation farming project for the British soldiers who remained in the region. That farming project is how White River began.
Picture: Steward Masweneng / Pixabay
Also check out: