The name Mpumalanga, which translates to "Place of the Rising Sun," was given to the new province in 1993. The province is a crucial component of South Africa's history.
The historical, scenic, and animal variety of this region is unmatched by any place in the world, and a trip to South Africa would not be complete without stopping by Mpumalanga which is already considered to be one of the most well-liked tourist attractions in South Africa.
Numerous wildlife reserves exist, including the well-known Kruger National Park which includes game viewing, bird watching, and beautiful drives through the valleys and peaks of the enormous Drakensberg escarpment are just a few of the attractions.
The Sudwala caverns and Bourke's Luck potholes are more examples of the natural heritage found in Mpumalanga. The historic mining village of Pilgrim's Rest and San rock paintings are among the more cultural landmarks that can be found in this beautiful province.
Here are some of the best things to do in Mpumalanga:
1. Go on Safari in Kruger National Park
Kruger National Park, a huge area split between Limpopo (in the north) and Mpumalanga (in the south), is frequently regarded as the pinnacle of South African safari destinations. The Kruger National Park was first established in 1898 to protect wildlife from being hunted down. Over a century now and that pledge has remained the same as the staff at the National park continue that promise with their hard work.
The park is home to 142 different species of mammals in addition to the Big Five, which includes both rhino species. With more than 500 different bird species to see, birders will also be in their element. The park provides guided game drives, self-drive safaris, and lodging options ranging from free public campsites to luxurious private lodges. The daily entry fee is R372 for adults and R186 for children.
2. Admire the Magnificent Scenery of the Blyde River Canyon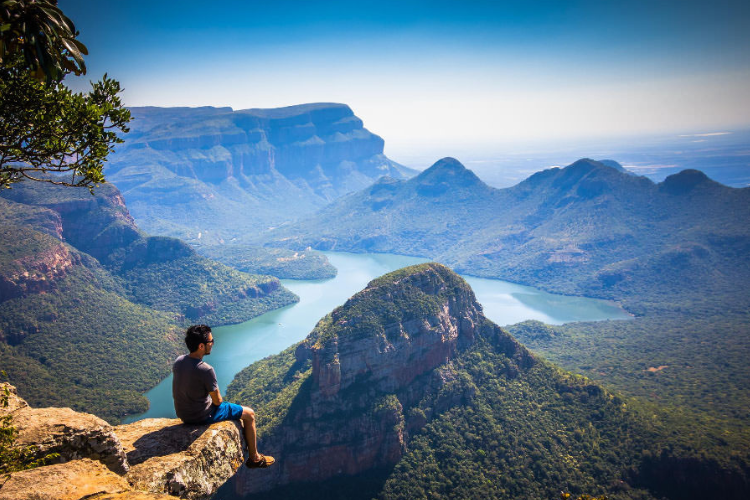 The third-largest canyon in the world is located northeast of Mpumalanga and is a portion of the Drakensberg escarpment. It wanders for 16 kilometres and averages 2,460 feet in depth. People travel from all over the world to view the canyon's scenery because erosion has produced some amazing geological structures inside and outside of it over the centuries.
The Three Rondavels, Bourke's Luck Potholes, and God's Window are a few of the top vantage locations. For information on exploring the canyon via hiking, rappelling, or hot air balloon, get in touch with Blyde River Safaris.
3. Vist the Bourke's Luck Potholes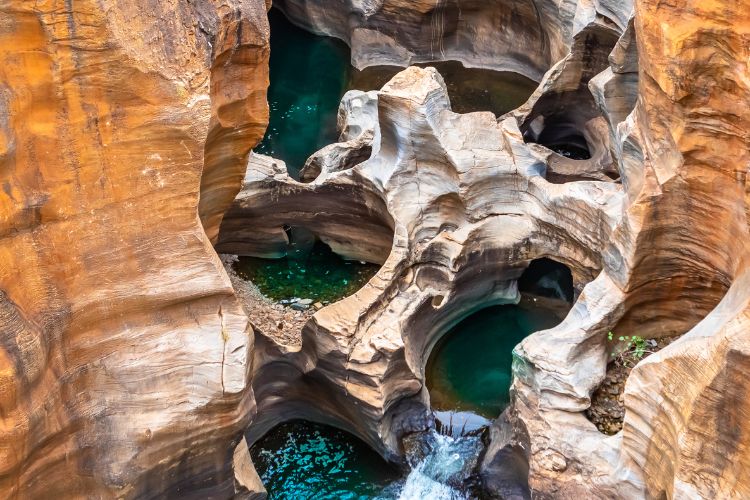 The rock formation has undergone millions of years of erosion, producing breathtaking views. The Black Reef quartzite has been worn by pebbles carried by the turbulent waters to produce waterfalls and "holes." White water dancing over black boulders creates lovely colour contrasts. The astounding depths of the waterfalls, which plunge to depths of over 20 meters, will be visible farther on, along with the diverse shades of silt in shades of red, beige, and other earthy tones. An amazing sight! Walking over the dark rocks, sticking your toes in the cool, clear water, and viewing the falls from the observation bridges built there are various ways to see all of this. At the entryway are vendors selling local handicrafts and a small museum.
Address: Blyde River Canyon Nature Reserve, Moremela
4. Go underground and explore the Sudwala Caves.

The Sudwala Caves in Mpumalanga are one of the planet's oldest cave systems and date back more than 240 million years. On a guided tour, descend 490 feet below the surface while pausing to take in the spectacular lighted rock formations including stalactites and stalagmites. Watch out for horseshoe bats as well as the Stone Age objects that are on show at the entrance. Open every day, the caves are a 30-minute drive from Nelspruit.
Address: R539, Nelspruit, 1201
5. Uncover Barberton's Gold Rush History

After prospectors flocked to the region in pursuit of success following the finding of gold in 1883, the historic town of Barberton was established. Their settlement expanded into a bustling town with its own railroad, stock market, and mining firms. The heyday of Barberton was fleeting, and the prospectors soon moved on to other reefs. Tour the Barberton Museum to get a sense of the exhilaration of that era. After that, stroll along the Heritage Walk, which connects historical structures, a steam locomotive, and other places related to the gold rush.
Address: 36 Pilgrim Street, Barberton, Mpumalanga, South Africa
6. Discover the Lowveld National Botanical Garden in Nelspruit.
The Lowveld National Botanical Garden, a stunning 159-hectare landscape dominated by rough, rocky river scenery, is one of the primary attractions of Nelspruit. It is home to approximately 600 naturally occurring plant species in addition to another 2000 that have been imported to the garden.
The Lowveld Botanical Garden, which is teeming with trees, offers tourists a lovely refuge. The garden is dominated by over 650 South African native tree species, with older cycads and various plants interspersed. Due mostly to the garden's elevation, a vegetation type known as Sour Lowveld Bushveld that serves as a transition between the real Lowveld and the escarpment dominates the area.
Address: Emnotweni Ave, Riverside park, Mbombela, 1201, South Africa
7. Take a trip to Jane Goodall's Chimp Eden.
Chimp Eden is 20 minutes south of Nelspruit. It is the only chimpanzee sanctuary in South Africa, situated inside the Umhloti Nature Reserve and maintained by the Jane Goodall Institute. It carries on the work of the renowned primatologist by giving chimpanzees who have been rescued from the bush meat and illicit pet industries a place to live. The closest surviving relative of man, these threatened species will amaze you with how similar to humans they act when you see them in their semi-wild habitats. Adult tours cost R210, and kid tours cost R95.
Address: 47 R40, Mbombela, 1201, South Africa
Things to get your adrenaline up in Mpumalanga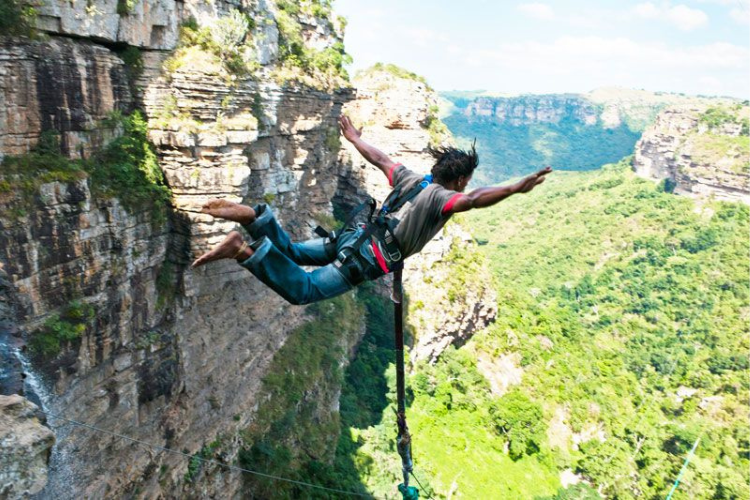 Mpumalanga has a list of things that you can write off your bucket list. For thrill-seekers and nature lovers, Mpumalanga is sure to exceed your expectations! Whether you're looking for an adrenaline-pumping adventure or a peaceful way to take in the stunning surroundings or if you're looking for a fun outdoor activity to do with your kids or a group of friends check the following activities below:
8. Visit the Sabie River to go whitewater rafting.
A must-see place for thrill-seekers is the Sabie River Valley, where businesses provide a wide range of activities like quad biking, horseback riding as well as paintball, archery, and more. The Sabie River's whitewater rafting, however, is what makes the region most well-known. Induna Adventures (based near Hazyview) offers half-day trips down Grade 2 and 3 rapids in rubber inflatables. In addition to being accompanied by experienced rafting experts, you may take in the stunning forest environment during the calm intervals. From October to March, the rapids are at their quickest and most enjoyable.
9. Get Your Blood Pumping at Graskop Gorge

The lovely Graskop Gorge is located south of the Blyde River Canyon Nature Reserve. The Graskop Gorge Lift Company operates a number of adrenaline-pumping attractions here, including the tallest cable gorge swing in the entire world (a 230-foot free fall in under 3 seconds). You may also enjoy taking the 167-foot journey down the gorge's wall in a glass-fronted viewing lift or span the gorge on a highwire zipline.
Address: R533 Graskop Gorge, Graskop, 1270, South Africa
10. Ride Hazyview's Aerial Cable Trail

Visit Skyway Trails nearby Hazyview to continue your aerial adventure of the Graskop gorge. The attraction is home to the longest aerial cable path in the province, which features eight different zip lines that will take you on an exhilarating ride through the forest. As an alternative, you can attempt the Tree Top Challenge, a raised obstacle course with 19 tasks that is appropriate for all ages. Be advised that on Christmas Day and New Year's Day the location will be closed. Skyway Trails is open daily from 8 a.m. to 5 p.m.
Address: Perry's Bridge Trading Post, Cnr Main Rd Hazyview and Sabie Rd, Hazyview, 1242, South Africa
11. Visit Sabi Sands Game Reserve to look for leopards.

The Kruger National Park is encircled by private game reserves, the most well-known is unquestionably Sabi Sands, with which it shares an unfenced boundary. Sabi Sands, a more upscale location than the Kruger itself, offers great Big Five sightings and guided game drives. It is particularly well-known as one of Africa's top locations for leopard sightings. If seeing these spotted predators is at the top of your list, go to the Londolozi region where rangers have been researching the cats for more than 40 years.
Address: Portion 4, Shaws Gate, shaws gate, Kruger, 1350, South Africa
Farmstays and Accommodation in Mpumalanga
Farmstays and Accommodation in Mbombela, Mpumalanga offer travellers a unique opportunity to experience the area's stunning landscapes and wildlife. With so much to see and do in the area, farm stays and accommodation in Mbombela provide the perfect base for exploring all that the region has to offer. From stunning landscapes and world-famous night skies to an abundance of wildlife and outdoor activities. Check out other accommodations from Daddy's Deals.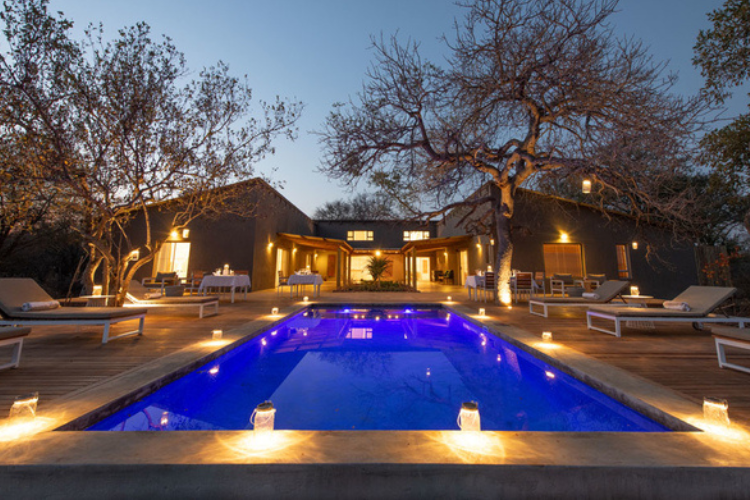 The Wildlife Estate in Hoedspruit is home to Unembeza Boutique Lodge. Free private parking is supplied on-site, and free WiFi is available all over the building. There are balconies and terraces in each of the lodge's air-conditioned rooms. There is also a refrigerator, a Nespresso machine, and a tea maker. Each apartment has a private bathroom with natural products. A sun patio and viewing deck with views of a wildlife estate are also included in Unembeza Boutique Lodge. On the deck and beside the fireplace, guests can relax with a drink. The establishment additionally serves breakfast, lunch, and a 4-course meal each night.
Address: 288 Ghwarrie, Wildlife Estate, 1380 Hoedspruit, South Africa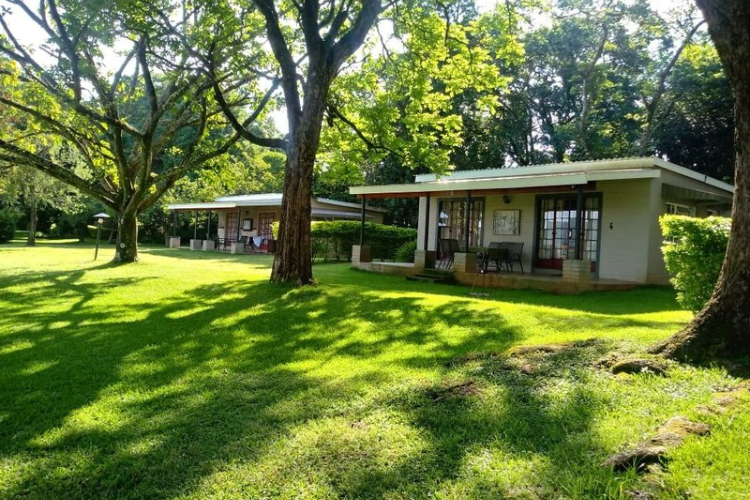 Sabaan, a family-owned farm with a picturesque outlook, serenity, quiet, and tranquillity, is conveniently located between Hazyview and Sabie, making it the perfect starting point for exploring the Panorama Route, waterfalls, the Kruger National Park, and other attractions. We have 22 completely furnished self-catering cabins that can sleep up to 140 people in total. The chalets can house 2 to 8 people and have their own parking space and braai.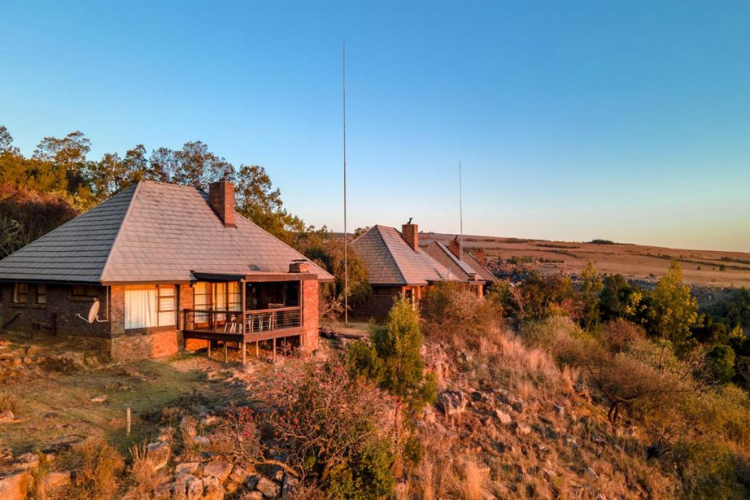 Crystal Springs Mountain Lodge is a lodging option with a restaurant, free private parking, an outdoor swimming pool, and a fitness centre. It is situated in Pilgrim's Rest, 27.4 kilometres from Ohrigstad Dam Nature Reserve. A bar, a common area, and a garden are just a few of the amenities. There is also a playground and an indoor pool within the resort.
A seating area, a flat-screen TV with satellite channels, a safety deposit box, and a private bathroom with a shower are included in every room at the resort. Every room has an electric teapot, and a few of them have a kitchenette with a microwave, a fridge, and an oven. Bed linens and towels are provided in the rooms at Crystal Springs Mountain Lodge.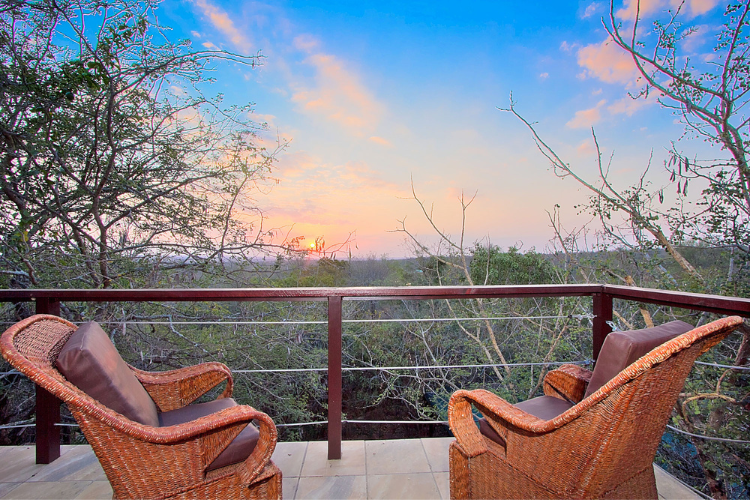 The Royale Marlothi Safari Lodge is located in the "Wild Frontier" area of the Mpumalanga Province, just across the Crocodile River from where it naturally borders the Kruger National Park. The Royale Marlothi Safari Lodge is located in Marloth Park deep within the jungle. Excellently furnished lodge rooms and chalets are available for lodging, ensuring a calm environment.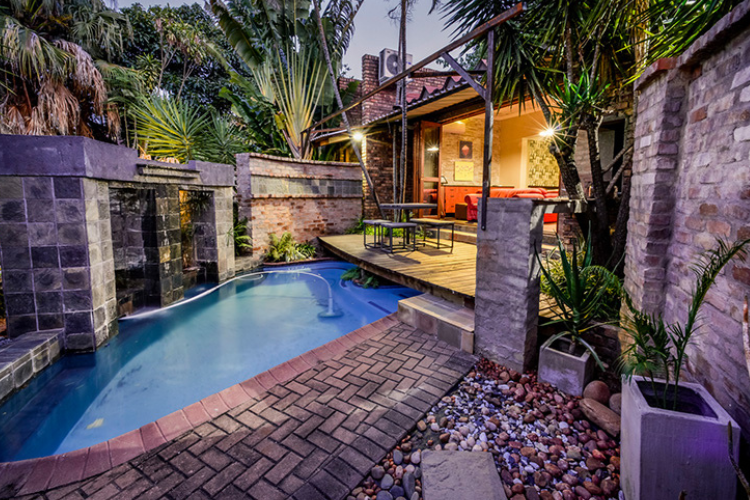 Located in Nelspruit, Zebrina Guest House provides lodging with a pool. There is a bar and grills on the premises. The younger visitors can play on the playground. There is free WiFi connection everywhere. You will have a flat-screen TV with satellite channels in each of these rooms. A patio and a seating area are present. There is a bathtub or shower in each private bathroom. There is a lawn and a communal lounge at Zebrina Guest House as well as free parking. The Nelspruit Golf Club, Mbombela Stadium, and Mbombela Stadium are all within 2.9 miles of the guest house.
Address: 3 Zebrina Crescent, West Acres, 1200 Nelspruit, South Africa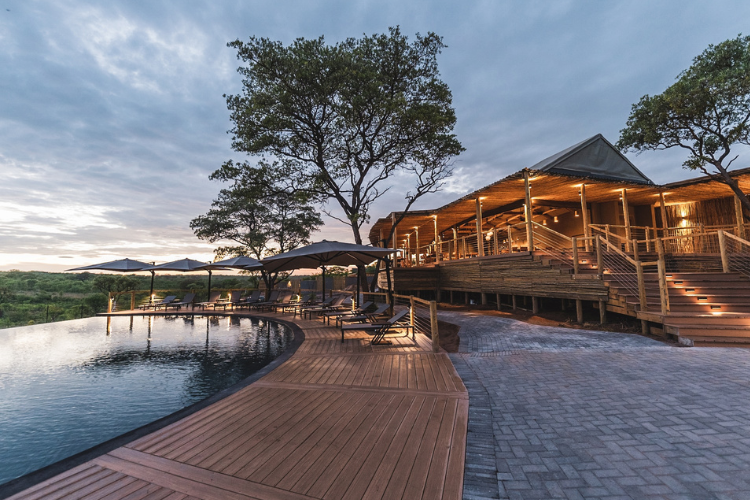 Mdluli Safari Lodge, which is situated in the south-western section of the Kruger National Park, is reachable through a separate road just after the Numbi Gate. At Mdluli, each of the lavish tents has air conditioning and a private patio with views of the park. They all have showers that are both indoor and outdoor. At the lodge, gourmet meals are offered, and guests have the choice of dining by the boma fire
Visitors may see wildlife from the deck, bar, and infinity pool, which all have views of the park and river. There are also Big Five game drives and hikes available with knowledgeable guides.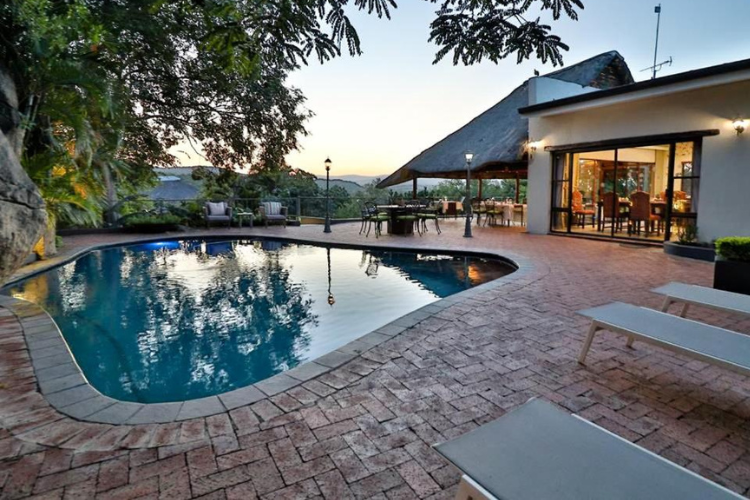 The La Roca Guest House is situated in a posh Nelspruit neighbourhood. Its pool deck offers uninterrupted views of the Nelspruit Nature Reserve and is surrounded by a subtropical garden. Each of the distinctively decorated rooms at Roca Guest House has a private entrance, satellite TV, a balcony, or a patio. Views of the reserve can be found in a few of the rooms. On the expansive pool patio, breakfast is served beneath the thatched lapa's open-air canopy. While KMIA Nelspruit Airport is 27 kilometres from the guest home, Nelspruit's downtown is only 2km away. Shuttles to the airport can be scheduled.
Address: 56 van Wijk Street, 1200 Nelspruit, South Africa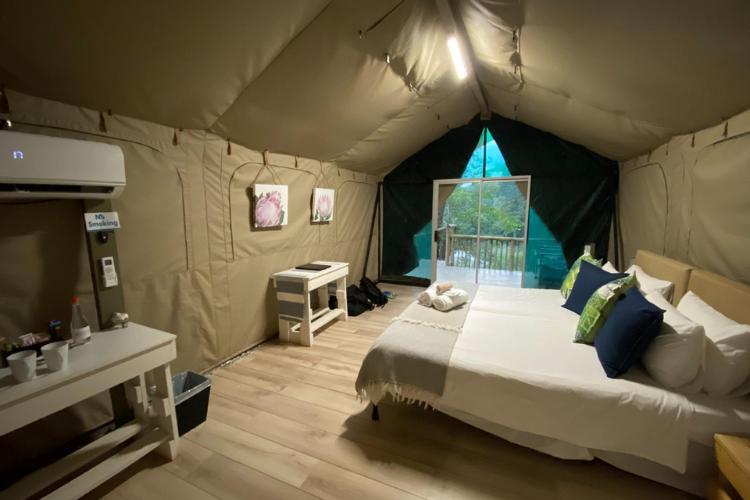 With expansive views of the African countryside, Lions Rock Rapids – Lodge is a lodge located in Hazyview. There are private pools in each of the rooms. A spa bath, kitchenette, and kitchenette with a microwave and tea/coffee making facilities are included in some of the rooms' African-themed designs. Daily housekeeping is provided, and complimentary toiletries are provided. Additionally, there is free on-site parking and free WiFi in the reception area.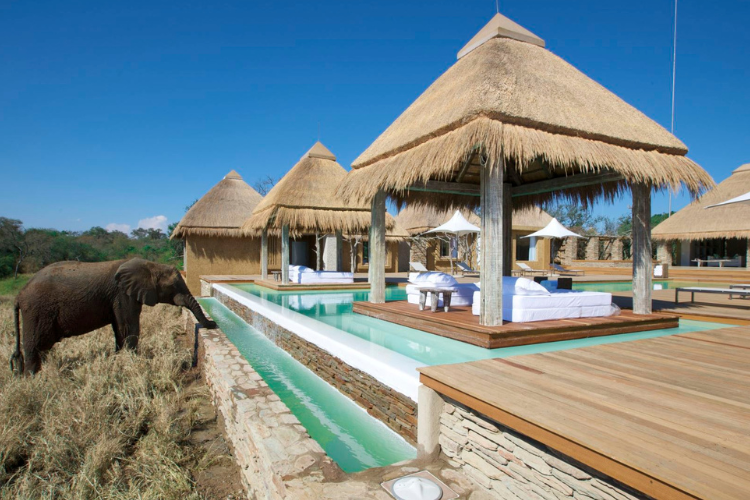 Kapama River Lodge is situated in the vast Kapama Game Reserve and is a part of the Greater National Kruger Park. Take advantage of a magnificent stay in contemporary rooms while being surrounded by African wilderness and wildlife.
The Drakensberg Mountains serve as the backdrop of Kapama's 64 air-conditioned suites, which are the largest luxury game lodge in the Greater Kruger National Park area. Each suite comes with a private bathroom that is furnished with a bath, a shower, and complimentary toiletries. Additionally, a minibar and coffee maker are provided in each.
There is a pool and spa at the lodge. Guests at Kapama River Lodge can take advantage of free WiFi and a number of activities like wildlife drives and bushwalks.
Address: Hoedspruit, 1380 Kapama Private Game Reserve, South Africa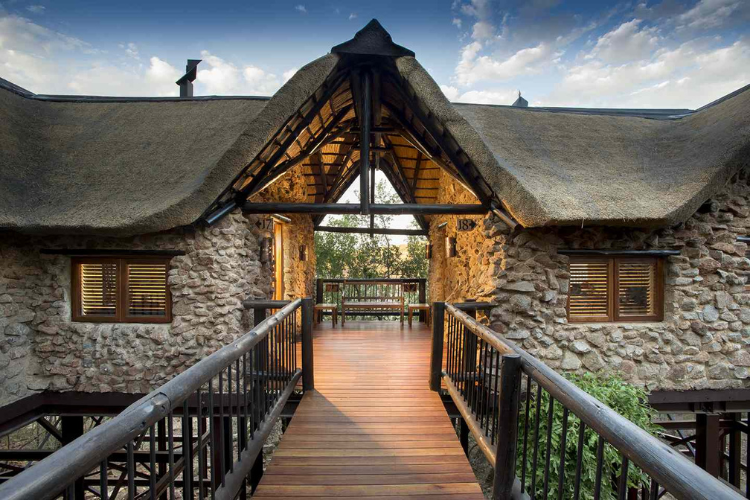 Tshukudu Game Lodge offers lodging, a restaurant, an outdoor pool, a bar, and a communal lounge, with Drakensig Golf Club within 10 kilometers. There is complimentary WiFi and private parking at the resort. A minibar and a kitchenette are features of certain accommodations. Breakfast is available as a buffet or à la carte for visitors at Tshukudu Game Lodge. There is a garden and a terrace at the lodging.
Top safaries in Mpumalanga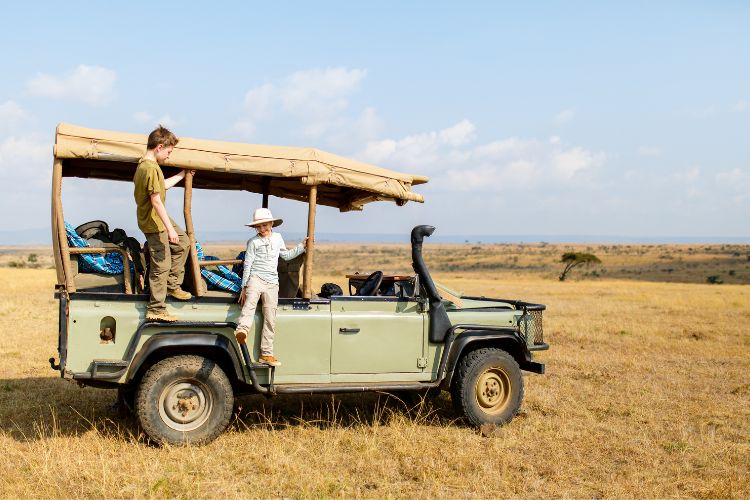 22. Timbavati Private Nature Reserve
The Timbavati Private Nature Reserve is situated on the western fringe of Kruger National Park, between the towns of Hoedspruit and Acornhoek, and to the north of the Sabi Sand Private Game Reserve. Three times bigger than the Sabi Sand Private Game Reserve, book your next trip to this park as it can be described as a hidden gem with higher sightings of game in comparison to other parks.
23. Mala Mala Game Reserve
Mala Mala is a wildlife reserve that is part of the Sabi Sand Game Reserve in the South African province of Mpumalanga. It is South Africa's largest and oldest privately owned big five game reserve, and it has an area of around 130 km2 (15 000 hectares). More importantly, MalaMala doesn't offer traversing rights to other reserves. This makes for a more exclusive experience. It also means that there is less pressure to make way for other vehicles at sightings.
24. Londolozi Game Reserve
West of Kruger National Park, in the Sabi Sands Reserve, is where Londolozi is located. It's one of the most well-known areas of Sabi Sands and a great choice if you can afford it, because its owners, the Varty family, have a long history of dedication to conservation, have immaculate taste, and have exclusive access to a wide region with their cars. There is zero chance of being forced to wait for other lodge guests to leave a sighting when departing on a game drive from one of Londolozi's five magnificent lodges.
25. Manyeleti Game Reserve
In South Africa's Mpumalanga province, to the east, is where you'll find the Manyeleti Game Reserve. The Mpumalanga Provincial Government oversees the game reserve, which has an area of around 22,750 ha.
Frequently Asked Questions about Mpumalanga 
What language is spoken in Mpumalanga?
There are four languages that are mainly spoken in Mpumalanga. These include siSwati (27,67%), isiZulu (24,1%), Xitsonga (10,4%) and isiNdebele (10%).
What is found in Mpumalanga?
The province has a history of being rich in gold deposits. Gold is still mined in the Barberton area today. Mpumalanga also accounts for 83% of South Africa's coal production.
What is Mpumalanga famous for?
Alluvial gold (Pilgrim's Rest)
Alluvial gold was discovered in 1873 close to Pilgrim's Rest by Alec "Wheelbarrow" Patterson. When William Trafford discovered a similar discovery, he initially tried to keep it a secret. The world's largest gold rush at the time resulted from this. The Witwatersrand, however, saw the discovery of reef gold in 1886, which set off an even greater rush. While many residents of Pilgrim's Rest moved to the Witwatersrand, mining in the eastern Transvaal persisted until 1972.
Jock of the Bushveld, a well-known novel by Percy Fitzpatrick, tells the authentic tale of Fitzpatrick's Staffordshire Bullterrier and their exploits on the South African Lowveld. The book written by Fitzpatrick was released in 1907 and contained the tale of Jock. There have been numerous films based on the story and is still as well-known today as it was back then. In Mpumalanga, there are numerous memorials to Jock, one of which is located in the Kruger National Park.
Is Mpumalanga safe to visit
There are many things to do in Mpumalanga, but when it comes to safety in South Africa. It doesn't matter which province you visit, it is advisable to be vigilant in your surroundings because neither is safer than the other!
Related posts