The beautiful native forests, peaceful lakes, and golden beaches of Knysna make it a natural paradise. The town is located on the banks of a stunning lagoon that is now a designated marine reserve and is home to the amazing sea horse and more than 200 different fish species. There are countless opportunities for outdoor recreation and adventure near beaches, lakes, mountains, and rivers. Making it a perfect holiday destination.
In this guide, you will find some of the best things to do in Knysna.
Knysna has it all whether you're looking for thrilling outdoor adventures, the best restaurants, accommodation, or things to do with kids, couples, alone, or on a budget.
Check out our deals page or click the link below to see what's on today.
Planning a trip to Knysna? Check out these pages below:
Here are some of the best things to do in Knysna:
1. Go on Safari in Knysna Elephant Park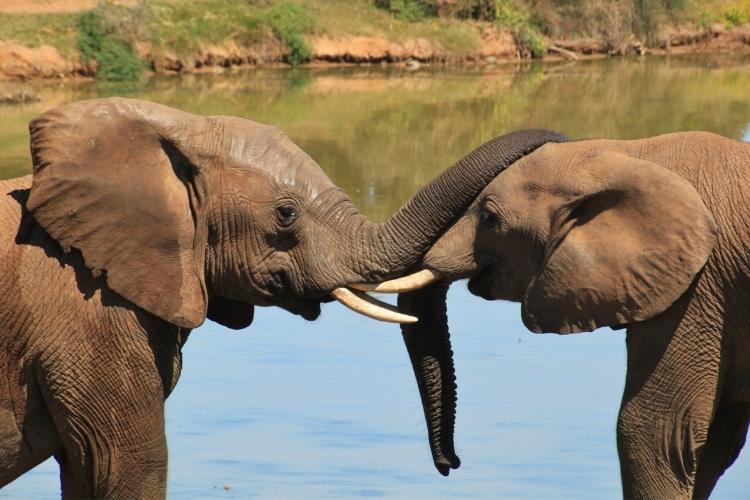 Knysna Elephant Park is frequently regarded as the pinnacle of South African destinations. The park was first established in 1994 to protect and house wildlife orphaned Elephants. Over 25 years now, that pledge has remained the same as the staff at the National park continue that promise with their hard work and dedication to these endangered animals. It is also important to note that the Forest elephant has been native to the forest of Knysna for over centuries now.
Times: Monday – Sunday, 8 am – 5 pm
Cost: R360 (adults) R430 (For Non-SA Residents) ; R175 (children 5 – 14 years), 10% off (senior citizens)
Contact: 044 532 7732
Address: Farm 428, Harkerville, Plettenberg Bay, South Africa
2. Admire the Magnificent Scenery of the Garden Route National Park
The Garden Route National Park is a national park in South Africa's Western Cape and Eastern Cape provinces that is located along the Garden Route. The Otter Trail and its native woodlands make this coastal reserve famous. It also has a magnificent coastline. The Tsitsikamma and Wilderness National Parks, the Knysna National Lake Area, and many other state-owned lands were combined to form it on March 6, 2009.
About 685 km2 of the park's 1,210 km2 total area was already a part of its predecessor national parks. The park contains an uninterrupted structure of native woodland covering around 605 km2. The Garden Route National Park is unique in Southern Africa as the only place where rain falls continuously throughout the year.
Times: Monday – Sunday, 7 am – 6 pm
Cost: Prices vary for each gate/park 
Contact: 044 877 0046
3. Scoot Through the Forest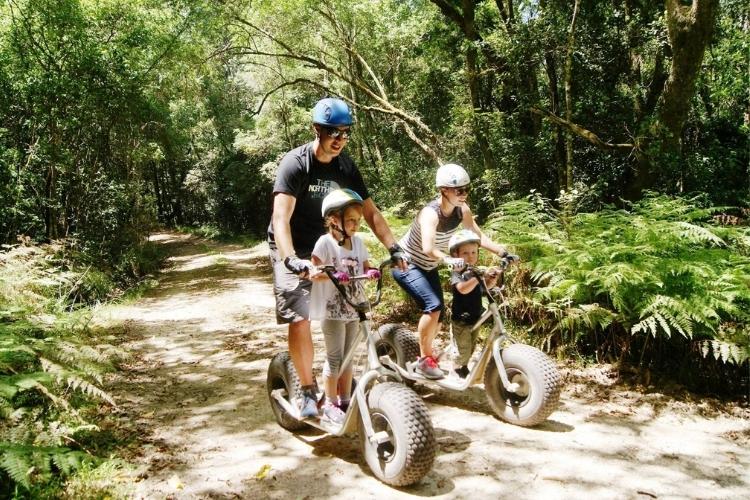 Tour operators will ensure your safety on a thrilling scooter as you explore the Knysna Forest. The sturdy, Swiss-made scooters can readily withstand sweeping turns and downward falls. In addition, you may get to see some of the wildlife in the dense forest along the path, including the Knysna loerie.
Times: Monday – Sunday, 9 am, 12 pm, 3 pm
Duration 2 hours
Cost R600 (adults); R300 (children 4 to 9 years); R80 (snack pack)
Address: Shop TH24B, Thesen Island Café & Shop, Long Street, Thesen Island, Knysna
4. Knysna Heads and Lagoon Cruise
You can witness a wide variety of bird and marine life while taking a scenic cruise around Knysna's serene lagoon to the famous Knysna Heads, a pair of sandstone cliffs that serve as a natural entrance to the ocean beyond. While there, treat yourself to some snack platters, oysters, and champagne (or wine) for an extra fee.
Times: Monday – Sunday  10.30am, 12pm, 3pm, 5pm
Duration: 1 hour 15 minutes
Cost: R450 (adults); R225 (children under 13); R100 (snack platter); R320 (bottle of MCC Paul Rene); R120 (extra oysters); R220 (oysters and wine); R50 (kids' activity pack)
5. Hiking in Knysna
The Garden Route National Park is a bustling centre of activity and a verdant coastline area that calls to travellers. As expected, there is no shortage of hiking routes that wander inland through the trees and along the shore.
The length and degree of difficulty of the trails vary. However, the Garden of Eden Trail is perfect for people seeking a quick stroll through the woods because it crosses several moderate streams on wooden bridges and has picnic tables and seats along the route.
For 
those 
looking 
for a
true 
adventure, 
there 
is 
the 
Outeniqua 
Trail, 
a 
seven day trek from Knysna to Plettenberg Bay that requires an average of six hours of hiking each day and takes you through forests, rivers and along the coast. Booking is required, as the overnight huts can only hold a certain number of people. 
Cost: Most trails require permits, which can be purchased at the park entrance gates. SANParks conservation fees: R42 (adult); R21 (child).
6. Close Encounter Whale-Watching
An experience that won't soon be forgotten is getting a close-up look at one of these gentle giants. Bryde's whales and dolphins frequently visit the coastal waters near Knysna, and during the breeding season, southern right and humpback whales also make an appearance (June to October). Whale sightings occur on 95% of voyages during the height of the whale season.
Times: Monday – Sunday, 9.30 am; 12 pm; 3 pm (June – November; weather permitting)
Duration: 2 hours
Cost: R1 170 (adults)
R930 (children under 13)
Address: Ocean Odyssey Charters & Retail store TH 22, Long Street, Thesen Harbour Town, Thesen Island, Knysna
7. Kayak on the lagoon
There are many ways to discover the famed Knysna Lagoon, but kayaking is undoubtedly one of the most daring. Kayaking allows you to explore at your leisure and gets you as close to nature as possible without plunging in and swimming. No prior kayaking expertise is necessary, and the kayaks are simple to use.
Times: Monday – Sunday, 9 am — 5 pm
Duration: One hour
Cost: R250
R300 (with a guide)
Location: Thesen Island Cafe, Thesen Harbour Town, Thesen Island, Knysna
Beaches and viewpoints in Knysna
 
Knysna has many scenic locations along its lagoon and coastline with the Indian Ocean. With its secret beaches, viewpoints and prime locations, Knysna also has an estuary which is a gradual transition in physical, chemical and biological features from freshwater to seawater. This occurs when the Knysna River (high in the Outeniqua Mountains) drifts down and finds its way finally into the sea. This event has created amazing sea life and biodiversity that is unmatched.
8. Gericke's Point
To reach this granite outcrop that resembles a lion's head, set out on a two-kilometre stroll west along Swartvlei Beach. A beautiful ocean, seabird colony, and playful humpback dolphins surfing the waves can all be seen from the summit, which is a comparatively short climb. In addition, numerous rock pools are visible at low tide at shore level; you could easily spend an hour or more investigating them or swimming in the deeper ones. Keep in mind, though, that Gericke's Point turns into an island during high tide.
Where to find it: Swartvlei Beach parking area is accessed from the N2/SedgeLinks golf course turn-off.
9. Coney Glen Beach Knysna

Situated at the entrance of The Heads, in this stunning location, you will find Coney Glen Beach, with its wild waves and endless rock fixtures that will surely make you wonder at the beauty of nature. We suggest taking a lazy stroll along the beach and finding the right spot to enjoy a homemade picnic with family and friends – or just on your own. While swimming is limited due to the wild current, you can splash around in the rock pools found along the shore.
Address: 2 View Point, The Heads, Knysna, 6571
10. Featherbed Co

Visitors of the Garden Route can enjoy an extraordinary experience on the Knysna Lagoon thanks to Featherbed Co. Five freshwater rivers from the nearby Outeniqua Mountains enter the lagoon, which is more appropriately referred to as an estuary, where they join the surge of seawater from the Indian Ocean. You can also visit the Featherbed Nature Reserve situated on the mighty headlands which are referred to as the "Knysna Heads," the massive sandstone cliffs that rise above the Knysna Lagoon's entrance.
Address: Remembrance Drive, off Waterfront Drive, Knysna Central, Knysna, 6570
11. Brenton Beach

Brenton beach is great for walking and sunbathing and is popular with paragliders. A big rock formation, Castle Rock, is a favourite fishing spot for locals. However, swimming is dangerous because of rip currents.
Address: 242 State President C R Swart Rd, Brenton-on-Sea, 6571
12. Buffalo Bay Beach
Buffalo Bay is a family beach with safe swimming and great surfing conditions. This beach is a popular destination and will accommodate all of your summer activities. It is also ideal for walking (all the way to Brenton on Sea) and fishing.
Address: 163 Walker Dr, Buffels Bay, 6571
13. Knysna Waterfront
Tourists and locals frequent The Waterfront, well-known and adored for its entertainment options, fine cuisine, and breathtaking views. It is also a shopaholic's paradise because it has many unique, one-of-a-kind stores. These include curio shops, tourist-oriented merchandise, designer clothes retailers, and jewellery designers.
Every visitor can find something to suit their tastes and needs in the variety of art galleries, home furnishings businesses, and speciality shops that are available. A variety of yachts and cruise ships leave from the waterfront, taking tourists out on the lagoon to show off the beauty of the Western Cape. It's peaceful in and of itself to watch these boats float on the sea while drinking a nice beer. Check out our page on things to do in Cape Town.
Address: 21 Waterfront Dr, Knysna Central, Knysna, 6570
Accommodation in Knysna
Accommodation in Knysna offers travellers a unique opportunity to experience the area's stunning landscapes and sea life. With so much to see and do in the area, accommodation in Knysna provides the perfect base for exploring all the region has to offer. From stunning landscapes and world-famous night skies to an abundance of wildlife and outdoor activities. Check out other accommodations from Daddy's Deals.
14. Leisure Isle Lodge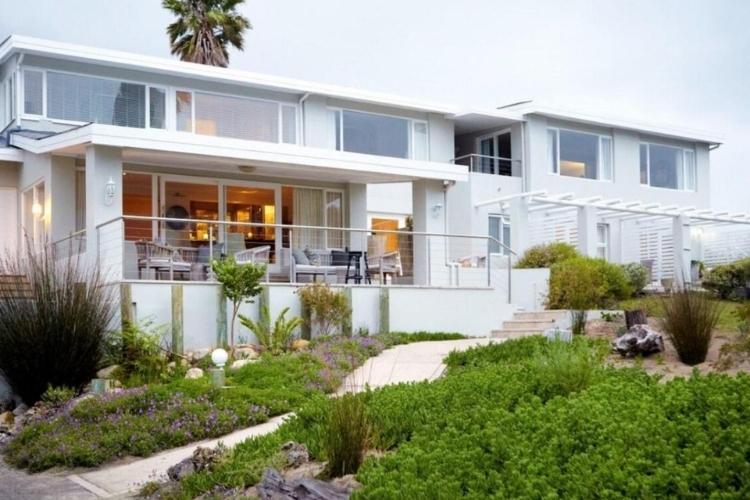 An undisputed jewel of the Garden Route. Perched below the rolling forests that line this stretch of coastline, you'll find this charming little town. Spend your days with someone special browsing the shops, becoming one with nature, tasting fresh and delicious food and exploring the Garden Route area.
With Leisure Isle Lodge as your base, you'll have the perfect spot to relax and unwind while enjoying the best this seaside town offers!
Contact: 044 384 0462
Email: lilodge@mweb.co.za
15. Spend a night at Pezula Nature Hotel & Spa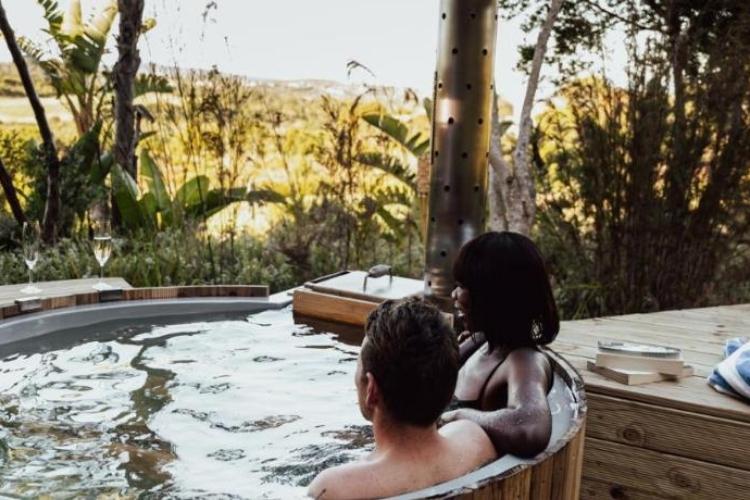 Choose the luxurious Pezula Nature Hotel & Spa as your base spot and share a Wood-Fired Hot Tub Suite with your special someone. Encircled by a lush paradise of forests, mountains, lakes and beaches, connecting with nature will be done intuitively. Check out our latest offer courtesy of Daddy's Deal to stay at this amazing hotel for a discounted price! 
Contact: 044 302 3333
Email: bookings@pezulahotel.com
16. Simola Hotel, Country Club & Spa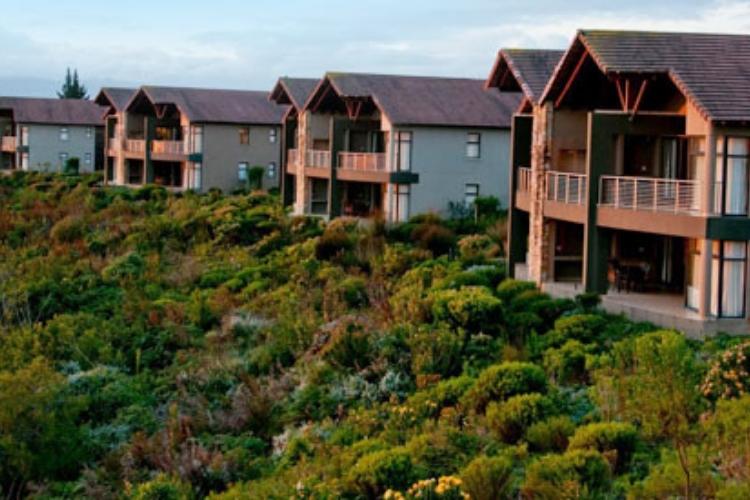 The 5-star Simola Hotel Country Club & Spa is situated in the hills above Knysna and features a Jack Nicklaus-designed golf course and a restaurant with views of the lagoon.
The eco-friendly Simola Hotel, Country Club & Spa offers complimentary WiFi, flat-screen TVs with satellite channels, and elegant bathrooms with amenities in each room. Some rooms come equipped with a kitchen, a cosy sitting area with a fireplace, and panoramic views of the lagoon or forest.
Contact: 044 302 9600
Email: reservations@simola.co.za
17. Knysna Log-Inn Hotel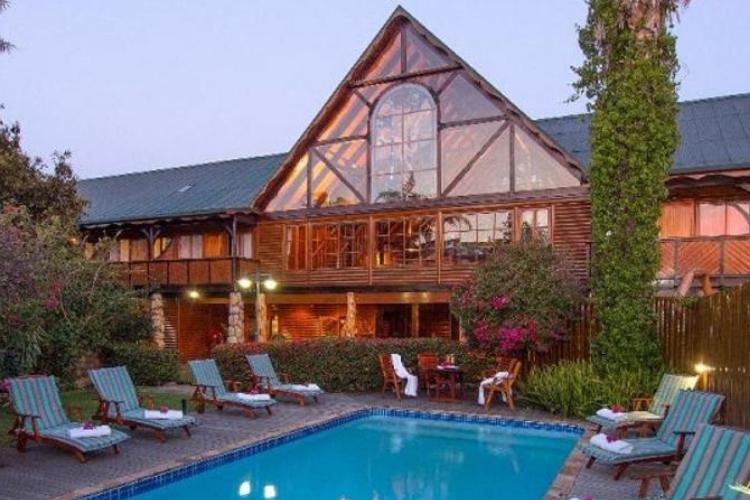 The Knysna Log-Inn is an example of an "indigenous" idea that brings together the character and spirit of the surrounding forests in and around. The magnificent foyer creates a calming and pleasant atmosphere for travellers with its yellowwood trunks and breathtaking 3 m stained glass windows.
The hotel is ideally situated for visiting Knysna and the Garden Route because of its central location in the town. 350 meters from the Knysna Waterfront shopping centre, which houses a variety of exciting stores, excellent restaurants, tourist attractions, boats, ferries, and yachts.
Contact: 044 382 5835
Email: res@kli.co.za
18. The Rex Hotel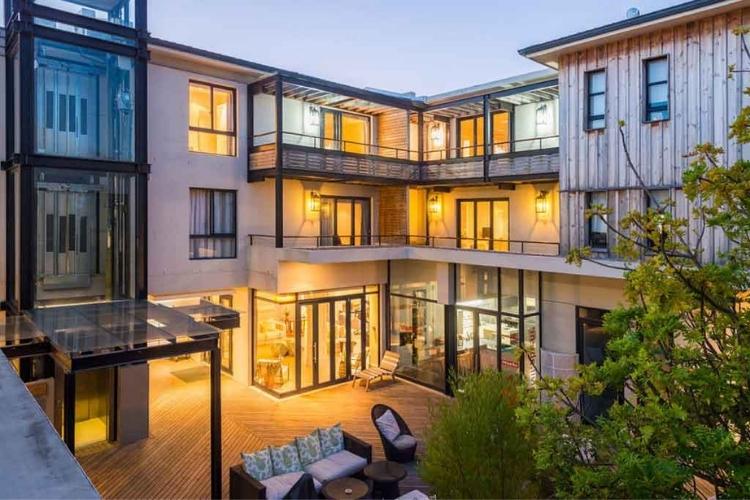 The Rex Hotel provides the utmost self-catering comfort and is located 300 meters from the Knysna Waterfront shopping district. Modern architecture, LCD TVs, and extra-large windows can be found.
The Rex Hotel is conveniently close to various recreational, aquatic, and sporting activities. The Knysna Elephant Park and Featherbed Boat Cruises are both nearby attractions.
Contact: 010 442 5888
Email: reservations@thelofts.co.za
19. Lofts Boutique Hotel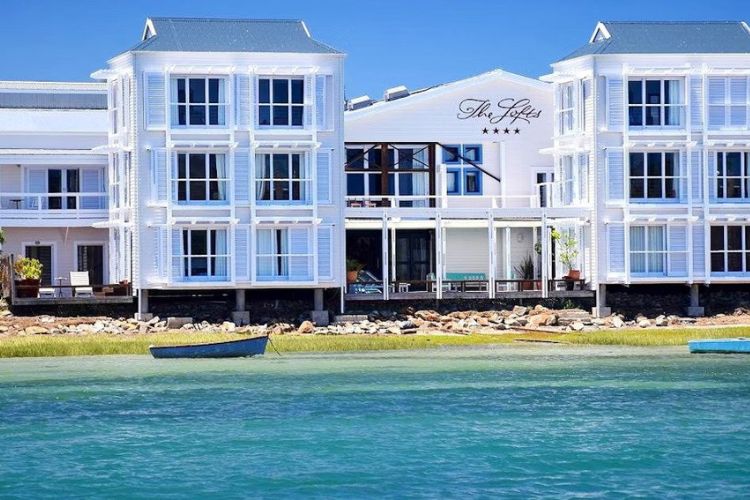 Situated at the tip of picturesque Thesen Island, The Lofts Boutique Hotel offers uniquely themed accommodation and an outdoor splash pool overlooking the Knysna Lagoon. Free private, covered parking is available on site.
The Lofts Boutique Hotel, which once housed an industrial boat-building shed, combines historical significance with cutting-edge style to offer modern rooms accented with exposed wooden beams. Suites provide spectacular views of the Knysna Lagoon, while the double rooms have wide, sunny private balconies or self-catering options (apartments). Every room has 4-star features like satellite TV, a tea/coffee maker, and extra-long beds.
Contact: 044 302 5710
Email: reservations@thelofts.co.za
20. Knysna Hollow Country Estate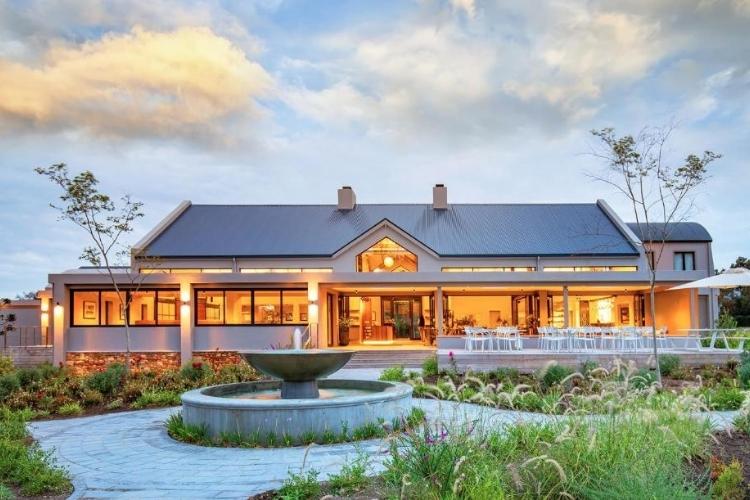 The Knysna Hollow Country Estate provides accommodation with a restaurant, free private parking, an outdoor swimming pool and a bar. 6.5 km from Knysna Forest and 10 km from Knysna Heads, the property features a shared lounge and a garden. The hotel features family rooms.
A desk, a patio with a view of the pool, a private bathroom, a flat-screen TV, bed linens, and towels are included in each hotel room. A safety deposit box is provided in every room, and some of them have terraces. A kettle and a wardrobe are offered in every apartment to the guests.
Contact: 044 382 5401
Email: reservations@knysnahollow.co.za
Frequently Asked Questions about Knysna
What language do they speak in Knysna?
The most spoken languages are isiXhosa and Afrikaans
How did Knysna get its name?
Its foundation is the word "naizna" in Khoikhoi, which means ferns.
What is Knysna famous for?
The beautiful native forests, peaceful lakes, and golden beaches of Knysna make it a natural paradise.
When you think of the Western Cape, you don't think of tropical forests but located in Knysna, you can find the only Tropical forest in Southern Africa. This forest was also once home to thousands of forest Elephants which are usually found in its native humid forests in West Africa and the Congo Basin
Related posts